Brown and Hurley Yatala wins DAF Dealer of the Year award two years in a row
One of the youngest dealerships from PACCAR Australia's oldest dealer group - Brown & Hurley Yatala - has scooped DAF's two most prized dealer awards. It has been crowned the DAF Dealer of the Year as well as DAF Service Dealer of the Year for 2011.
This is the first time a dealership has won two major DAF awards in the same year. It's even more remarkable because the Yatala branch is less than four years old and it has won the hotly-contested DAF Dealer of the Year award for the second year in a row. The news is particularly sweet for the Brown & Hurley Group. It has snatched the DAF Dealer of the Year award a record-breaking six times. In addition to Yatala winning in 2010 and 2011, the Darra (Brisbane) branch won over four consecutive years, including 2003-2006.
The announcement was made at PACCAR Australia's annual dealer awards event. The awards are open to PACCAR dealers from various parts of Australia, New Zealand and Papua New Guinea. Dealers are judged on a points system across five main areas, including general dealership performance, truck sales, customer service, finance and parts support.
At the awards ceremony, PACCAR Australia's Managing Director, Joe Rizzo, praised the dealership for its ongoing success with the DAF brand and its high standards of customer service.
"In less than four years, Brown & Hurley Yatala has made its mark on the trucking industry, particularly with the DAF range. It continues to lift sales with existing customers and make significant inroads into new markets, which has contributed to DAF's increasing industry profile and market share," he said.
"Like all the dealerships in the group, Brown & Hurley Yatala continues to be successful because of its single-minded commitment to customers. The branch's facilities are among the best in the country, and they're complemented by a team of factory-trained sales, service and support professionals. This is all part of the dealer's dedication to ensuring the best possible customer outcomes in every facet of the business. And that is why Yatala continues to win DAF's highest awards for excellence," Joe added.
In accepting the two awards on behalf of his dealership, Dealer Principal, Paul Hurley, said it was a privilege to be acknowledged again by DAF.
"These are important industry awards. They are testament to the genuine passion our people have for the DAF product, and their hard work throughout the year. These awards will inspire us to continue to improve on our efforts," Paul said.
"Customer service is a term that's often bandied about, but we see it as crucial to our success today and our growth tomorrow. Our goal always is to provide the best possible customer experience, from the presentation of our facilities to the way we conduct business. We have a full range of truck models, quality parts and accessories on hand at all times, so we can help customers with whatever they need at a moment's notice," he explained.
In addition to the DAF dealer awards, Brown & Hurley Yatala has also been recognised for the calibre of its DAF service technicians. Over the past four years, PACCAR Australia has run an annual DAF Technician of the Year competition. Yatala technicians have won the award once and been finalists in the other three years.
Established in April 2008 and located midway between Brisbane and the Gold Coast, Brown & Hurley Yatala's territory extends south to Tweed Heads on the NSW border, west to Beaudesert and north to the Brisbane airport.
The dealership displays the full range of DAF and Kenworth models in various configurations. It also has an ALLRig parts and accessories supermarket with $1.5 million in stock, and comfortable customer amenities. The workshop features 26 service bays; 24 of which are B double drive-through pits. It boasts the latest diagnostic and repair facilities, including a brake roller tester and specialist equipment for servicing DAF's ZF transmissions. In addition, the dealership offers a 24/7 breakdown repair and parts service throughout the area.
The Yatala branch experienced strong demand for all DAF models from owner-drivers, and small and large fleet operators throughout 2011. The compact LF45 and LF55 rigids were popular choices for short-haul work, such as metropolitan deliveries. Also popular were medium-duty CF75s rigids as utility vehicles, and prime movers for local distribution of shipping containers from the Port of Brisbane. Heavy-duty CF85 prime movers were purchased primarily for intrastate duties, including haulage of shipping containers, and light-weight, 36-palletised food and freight to mines in Central Queensland.
Paul believes his, and other PACCAR dealerships, will have another positive sales year in 2012, thanks to the latest innovations from DAF and Kenworth, which will be showcased at the 2012 International Truck, Trailer and Equipment Show in Melbourne in mid March. DAF will officially launch its new award-winning flagship model, the X105, which boasts higher horsepower engines and the most spacious cabs in its class. It has taken Europe by storm and helped make DAF the number one heavy-duty prime mover brand on the Continent.
"We're expecting strong sales here as well. The XF105 complements the CF85 and allows DAF to handle more demanding, heavy haulage and long distance applications, including B double interstate distribution. It has plenty of power under the cab and plenty of comfort and space in the cab which will be a winning combination for this sector of the market," Paul explained.
"PACCAR Australia has a distinct advantage in the trucking industry. It's leading Kenworth and DAF products offer different features and benefits for different market segments. Between them, they meet the needs of virtually every transport requirement. And behind every truck is the region's most qualified dealers who are just as committed to their customers as we are," he added.
At the dealer awards ceremony, PACCAR Australia also presented the DAF Parts Award to Graham Thomson Motors in Shepparton for its outstanding performance throughout 2011.
Joe Rizzo said PACCAR conducts comprehensive training courses and regularly evaluates dealers to ensure its Kenworth and DAF products are represented in the best manner possible.
"Our awards encourage excellence in all of our truck dealers. They provide a win-win for everyone, particularly the customer, who benefits from a professional network
Related Articles
DAF Rocks Bonnie Rock with its Versatility and Comfort
View Details
DAF Trucks Australia Wins Technology and Innovation Award
View Details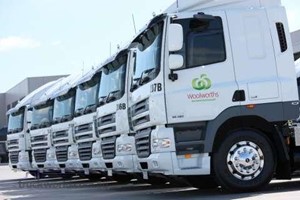 DAF Drives Woolworths' Push for Safe and Environmentally Friendly Trucks
View Details
PACCAR Trucks Melbourne crowned DAF Dealer of the Year 2012
View Details
DAF is all mine, Says R&J Tilt Tray Truck Hire
View Details
New DAF Model Range
View Details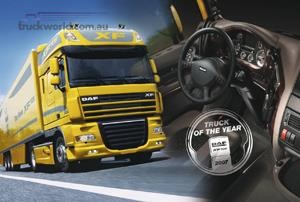 DAF XF105 Voted 'International Truck of the Year 2007'
View Details
View More News
View all Related Ads
View all news