DAF Trucks XF Series Wins 2019 Motor Transport Award For Fleet Truck Of The Year
MotorTransport magazine has been awarding its Motor Transport Awards since 1986 as a means to "celebrate, recognise, and reward excellence in the road freight transport industry." Over the years, the awards' various judges have awarded DAF Trucks the Fleet Truck of the Year honor 17 times. Following the recent 2019 presentation of the awards at an event in early July at the Grosvenor House Hotel in London, that number jumps to 18, as DAF's XF Series took home the prestigious Fleet Truck of the Year award once again.
"Benchmark For Excellence"
As Richard Zink, DAF Trucks director of marketing and sales, points out, winning an MT Award is considered particularly valuable because the jury of judges selecting award winners "consists of prominent individuals from across the transport sector." Overall, the Motor Transport Awards name winners in 20 categories. In general, the awards are viewed as a "benchmark for excellence among UK road-transport fleet operators, vehicle manufacturers, and other innovators."
According to DAF Trucks, a PACCAR-owned company, the event's judges heralded the DAF XF Series for its "favourable operating costs, excellent cab space, and brilliant after-sales support" as provided by DAF Trucks support network. Judges also singled out the XF Series' "excellent value for money and strong residual value," both "important factors to fleet buyers," DAF Trucks says.
The XF105 Flagship
In addition to its XF Series, DAF offers LF and CF series of trucks in Australia. The three series respectively target metro distribution, transport, and line-haul transportation applications. The XF Series' flagship XF105 model is billed as a "6x4 prime mover" and "perfect partner for the long haul." The truck draws power from a six-cylinder, turbo-intercooled, 12.9-litre PACCAR MX Engine that outputs 510 horsepower (380 kilowatts) of maximum rated power at 1,500 to 1,900 rpm. At 1,000 to 1,400 rpm, the truck provides 2,500 newton metres of maximum torque.
Related Articles
DAF Rocks Bonnie Rock with its Versatility and Comfort
View Details
DAF Trucks Australia Wins Technology and Innovation Award
View Details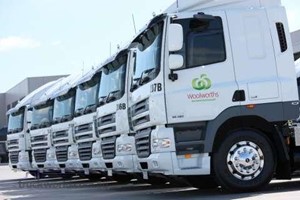 DAF Drives Woolworths' Push for Safe and Environmentally Friendly Trucks
View Details
PACCAR Trucks Melbourne crowned DAF Dealer of the Year 2012
View Details
DAF is all mine, Says R&J Tilt Tray Truck Hire
View Details
New DAF Model Range
View Details
DAF achieves all-time best quality audit score
View Details
View More News
View all Related Ads