Get To Know The New DAF CF & XF
Earlier this year, DAF brought its New CF and XF to Australia, complete with updated engines, transmissions, technologies, and more. Both models sport a redesigned exterior with features that match form and function, including a new sun visor that also improves aerodynamics. The XF also has redesigned grille closures, headlight and corner deflector gap closures, and flow guides under the grille, all of which improve the trucks' airflow.
The interiors of the CF and XF feature new colors and trim options, an updated instrument panel with configurable switches, an upgraded Driver Information Panel, and steering wheel buttons for cruise control and adaptive cruise control. DAF also introduced a new HVAC system to both models that is more efficient and easier to control. Drivers can adjust the temperature from the cab as well as from a wall panel in the rear of the cab.
"Building on the excellent reputation for fuel efficiency, reliability and driver comfort, the Euro 6 DAF range has earned in Europe, DAF has developed a new generation of XF and CF trucks offering the best possible solutions for both the customer and the driver," says Brad May, director of sales and marketing for PACCAR Australia. "Backed by our extensive and professional dealer network, the new trucks have superseded the existing range with exceptional advancements."
Engines & Transmissions
Also new for the CF and XF ranges are upgraded PACCAR MX-11 and MX-13 engines with improved exhaust aftertreatment systems, EGR (exhaust gas recirculation) systems, and overall efficiency. The MX-13 is the more powerful engine and produces either 480 horsepower (358 kilowatts) and 2,600 newton-metres of torque or 530 hp (395 kW) and 2,600 N-m of torque. The CF and XF now come standard with the most recent TraXon automated transmission, which is available in 12-speed and 16-speed configurations that enable smoother shifting for better fuel efficiency and improved driver control.
Safety & Driver Assistance Technologies
The CF and XF come with several standard safety features designed to protect truck operators and other drivers out on the road, including adaptive cruise control, advanced emergency braking, forward collision warning, lane departure warning, vehicle stability control, a side-mounted camera, and LED lighting for enhanced visibility. DAF also uses a Protective Cab Suspension Construction technology when manufacturing the cab to absorb more of the force from a collision. The interior is also quieter and ergonomic, all of which "contribute to a less fatigued driver at the end of the day," the company explains.
Related Articles
DAF Rocks Bonnie Rock with its Versatility and Comfort
View Details
DAF Trucks Australia Wins Technology and Innovation Award
View Details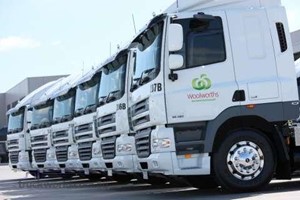 DAF Drives Woolworths' Push for Safe and Environmentally Friendly Trucks
View Details
PACCAR Trucks Melbourne crowned DAF Dealer of the Year 2012
View Details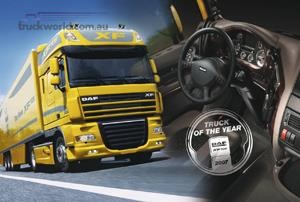 DAF XF105 Voted 'International Truck of the Year 2007'
View Details
DAF is all mine, Says R&J Tilt Tray Truck Hire
View Details
New DAF Model Range
View Details
View More News
View all Related Ads