Freighter Celebrates 75 Years Of Providing Trailers In Australia
The year 2021 marks 75 years since Freighter's first products hit Australian roads, making it the nation's longest-standing trailer brand. To celebrate the milestone, parent company MaxiTRANS is reflecting on the brand's long history. Though Freighter was officially created in 1945, its origins began much earlier with a man named John McGrath, a trailer manufacturer who started in the early 20th century when transportation was slow. Freight was largely animal-powered with an estimated 1.6 million horses, 6000 camels, and 45,000 bullocks pulling the weight. A trip by car from Sydney to Melbourne took a week. McGrath soon became the largest trailer manufacturer in the country due to the high quality of his products.
More Sales & Growth
Near the end of World War II, McGrath Trailer Equipment was sold to Noel Peel and became Freighters Ltd. By the 1970s, an estimated nine out of every 10 heavy-duty trailers on the road were Freighter products. The company changed hands again in 1982 when it was purchased by Peter White and was renamed Freighter Australia Manufacturing. The business continued to grow, adding 600 trailers in two years. Following more geographic and product diversification, Freighter was purchased by Jim Curtis, the creator of Maxi-CUBE, who merged the two lines to create MaxiTRANS in 1998. Due to the long history of the brand, the name Freighter was retained. To celebrate the 75th anniversary of the Freighter brand, MaxiTRANS has released a limited-edition Freighter 75th year Diamond Pack which is available across the Freighter range throughout 2021.
The Freighter Legacy
"Freighter's long and successful history is owed to our loyal customers," says MaxiTRANS Managing Director and CEO Dean Jenkins. "Many of our customers are two- or three-generation Freighter loyalists. It is this ongoing support that has helped build the legacy that Freighter prides itself on and will continue to be a part of every locally manufactured high-quality trailer that is produced. We sit here today reflecting on the great achievements of Freighter, from introducing the first curtain-sided trailer into the Australian market, known in the Freighter family as the Tautliner, through to continuing to push the boundaries on Performance-based standards (PBS)."
Source: MaxiTRANS
Related Articles
Freighter Demos Benchmark EziLiner at Truck Stops
View Details
Restrain Yourself the Freighter Way
View Details
New Rigid and Trailer for Unipod Customer
View Details
K&S Freighters put the big Ezi to work
View Details
The Winning Bid By Crouch Transport
View Details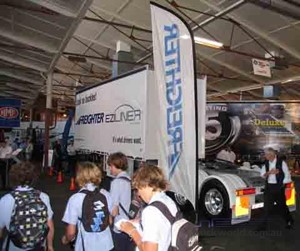 It's All Just a Little Too Ezi for these Operators
View Details
Freighter Proves It's What Operators and Drivers Want!
View Details
View More News
View all Related Ads