Daimler & Freightliner Launch Right-Hand Drive Cascadia Model Specifically Designed For Australia
Daimler Truck AG and Freightliner recently launched a right-hand drive version of their popular Cascadia model specifically designed for the Australian market. The company tested six models in the United States and three in Australia to ensure the truck could stand up to the unique conditions of the country. "We run our trucks hotter, harder, and longer so we needed to make sure the Australian Cascadia would be up to the task," says Stephen Downes, Freightliner Australia Pacific director. "We made some changes and are extremely confident this truck is ready to start saving money for our customers and delivering an on-road experience we know drivers will love."
Cabs, Engines & Transmissions
The Australian Freightliner Cascadia will be available with a BBC (bumper to back of cab) length of either 116 or 126 inches (2946 or 3200 millimetres) and cab heights of 36, 48, and 60 inches, with a 60-inch raised roof option as well. The cab also features integrated antennas, air deflectors, and cab side extenders for improved aerodynamics and fuel efficiency. The interior of the cab features integrated steering wheel controls, a wraparound dashboard, Sealy Posturepedic mattresses, leather seats, and several options for practical and aesthetic upgrades.
There are two engine options, a 16-litre DD16 that produces up to 600 horsepower (447.4 kilowatts) and 2,050 pounds-foot (2,779 newton metres) of torque and a 13-litre DD13 engine that produces up to 505 horsepower (376.6 kilowatts) and 1,850 pounds-foot (2,508 newton metres) of torque, both of which exceed Euro 6 emissions standards. Transmission options include a DT12 automated manual transmission and an 18-speed Eaton manual gearbox.
Safety & Technology
Freightliner emphasises safety with all of its trucks, but the Cascadia stands out with its Sideguard Assist system that prevents side impacts and a radar and camera system that detects pedestrians and can automatically apply the brakes to prevent an accident. The Cascadia comes standard with Detroit Assurance 5.0, which features adaptive cruise control, active emergency braking, lane departure warning, tailgate warning, and automatic wiper and headlamps. It also takes advantage of Detroit Connect, which gives fleet managers the ability to push out remote updates, monitor fuel efficiency, track routes via GPS, and much more.
Related Articles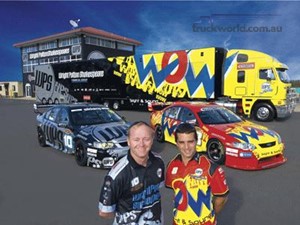 Australian Motorsport's Giant Newcomer
View Details
"The Best Commercial Vehicles of 2007" – DaimlerChrysler Heads the Field Again
View Details
Daimler Trucks Posts Australian Sales Record in October
View Details
20 Years On - Freightliner Strength Continues
View Details
New face at Freightliner
View Details
Freightliner General Manager Announced
View Details
Freightliner Trucks Enhances Vehicle Technology Safety in 2015 plated Columbia
View Details
View More News
View all Related Ads