Kewdale-Based Goldstar Transport Impressed With Freightliner Cascadia's Fuel Efficiency & Safety Features
Goldstar Transport, a logistics, warehousing, distribution, and transport specialist serving Western Australia, recently put a Freightliner Cascadia 116 demonstrator model through its paces on a route in Perth where the B-double day cab truck achieved a higher fuel efficiency rating than vehicles the company owns from other marques. The company has more than 100 trucks in its fleet, 29 of which are Freightliners, tasked with everything from "local distribution to heavy outback road train work," Freightliner says.
"We have had four trucks working on that run and I can confirm that the Cascadia was clearly the most fuel-efficient truck," says Sean Carren, managing director of Goldstar Transport. "The numbers are clear, it is at the top of the class. I was very impressed and our drivers were as well. It represents a quantum leap for Freightliner and for conventional trucks."
Enhanced Safety & Visibility
Carren and Goldstar Transport also like the Cascadia's Detroit Assurance suite of safety features, which includes autonomous emergency braking. There is also an option to add bonnet-mounted mirrors for improved visibility. "The additional mirrors are a great feature," Carren says. "They give our drivers clear vision all the way down the side of the trailers."
More Freightliner Cascadia Details
Freightliner did its homework prior to offering the Cascadia in Australia and New Zealand; the firm performed more than one million kilometres of testing locally and abroad to ensure the truck can stand up to the country's varied and often challenging terrain. The Cascadia is available with a 16-litre Detroit DD16 engine that produces up to 600 horsepower (447 kilowatts) and 2,050 pounds-foot (2,779 newton-metres) of torque or a 13-litre DD13 engine that produces up to 505 hp (377 kW) and 1,850 lbf-ft (2,508 N-m) of torque. Transmission options include a Detroit DT12 automated manual transmission or an Eaton 18-speed manual gearbox.
Freightliner will offer the truck in lengths of 116 and 126 inches BBC (bumper to back of cab). In addition to the day cab model, there will also be options for 36-, 48-, or 60-in mid roof sleepers and a 60-inch raised roof. The Freightliner Cascadia also features Detroit Connect, a fleet management platform that allows for remote updates, fault code diagnosis, GPS tracking, and much more.
Related Articles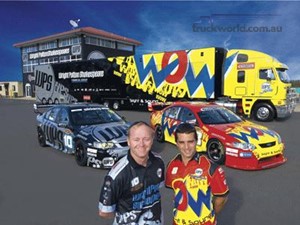 Australian Motorsport's Giant Newcomer
View Details
Argosy – Evolution Revolution
View Details
Freightliner Runs Smart With Country
View Details
A truck that loves Severe Duty - Freightliner Coronado SD
View Details
Daimler Trucks Australia Celebrates its Highest Achieving Commercial Vehicle Dealerships for Freightliner, Mercedes-Benz Trucks and Fuso
View Details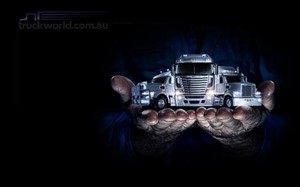 Freightliner Trucks enhances its contract maitanence program Service Plans
View Details
Freightliner celebrates 200th delivery to Jim Pearson Transport by Mavins Truck Centre
View Details
View More News
View all Related Ads