Perth-Based Dananni Haulage Adds Two Freightliner CL112 Trucks To Its 23-Strong Fleet For Hotshot Operations
Dananni Haulage, a hotshot transport specialist based in Perth, Western Australia, recently purchased two Freightliner Columbia CL112 trucks complete with several custom features. The 6x2 models have 48-inch sleeper cabs, a 7.8-metre tray, and a retractable lazy rear axle that lifts when the truck is empty or carrying a lighter load. This feature offers better fuel efficiency on return trips and Dananni haulage notes that it gets around 4.4 to 4.5 kilometres per litre when the axle is up and roughly 4.1 to 4.2 kilometres per litre when it is down. Both trucks also feature 8.9-litre, six-cylinder Cummins ISLe5 engines that produce 340 horsepower, Eaton UltraShift AMTs (automated manual transmissions), and Meritor axles.
Well-Suited For The Task
Because Dananni Haulage offers hotshot services, the company needed a reliable truck that could carry the load while getting to delivery sites as quickly as possible. The company often hauls dump truck engines, heavy equipment wheel groups, and other cargo that needs to be delivered on time, otherwise it can lead to "huge productivity losses," Freightliner explains. To keep up with the pace, Dananni's drivers operate in shifts, alternating driving and resting periods. The firm says the CL112 models have proven to be comfortable even on longer trips.
"We need reliability and good fuel economy, but the most important thing is driver comfort, because our drivers are doing very long distances. We will go anywhere there is a road, so our drivers can be on the road six days straight," says Danni Kempton, the company's owner. "There were people who thought I had no idea when I built up the Freightliners and were waiting for it to end up in a big mess. But I had done my homework and I knew it would work. The proof is in the pudding, and the Freightliners are the best two trucks we have."
More On The Freightliner Columbia CL112
Freightliner positions the Columbia CL112 as a short-haul or vocational truck, although it is available in several configurations that open it up to other applications. There are four iterations of the Cummins ISLe5 to choose form, ranging from 320 to 400 horsepower and from 996 to 1,254 pounds-foot (1,350.4 to 1,700 newton metres) of torque. Other cab options include a day cab or 34-inch mid roof sleeper and axle configurations include 4x2, 6x4, 8x4, and 10x4. There are also options for Eaton Manual, Eaton UltraShift Plus, Allison 3000 RDS (Rugged Duty Series), and Allison 4500 RDS transmissions.
Depending on the exact configuration, GVM (gross vehicle mass) and GCM (gross combination mass) will vary. GVM ranges from 16,000 kilograms for a 4x2 prime mover to 34,000 kilograms for a 10x4 mixer. GCM ranges from 28,400 kilograms for a 6x4 mixer to 40,000 kilograms for a 4x2 or 6x4 prime mover.
Related Articles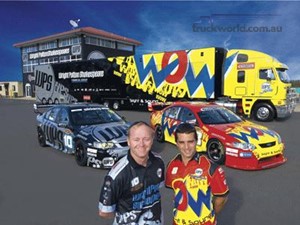 Australian Motorsport's Giant Newcomer
View Details
Argosy – Evolution Revolution
View Details
Freightliner Runs Smart With Country
View Details
A truck that loves Severe Duty - Freightliner Coronado SD
View Details
Daimler Trucks Australia Celebrates its Highest Achieving Commercial Vehicle Dealerships for Freightliner, Mercedes-Benz Trucks and Fuso
View Details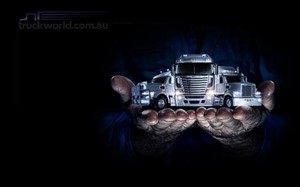 Freightliner Trucks enhances its contract maitanence program Service Plans
View Details
Freightliner celebrates 200th delivery to Jim Pearson Transport by Mavins Truck Centre
View Details
View More News
View all Related Ads