A Versatile Fuso Canter 4x4 That Can Ride On Roads Trails and Railways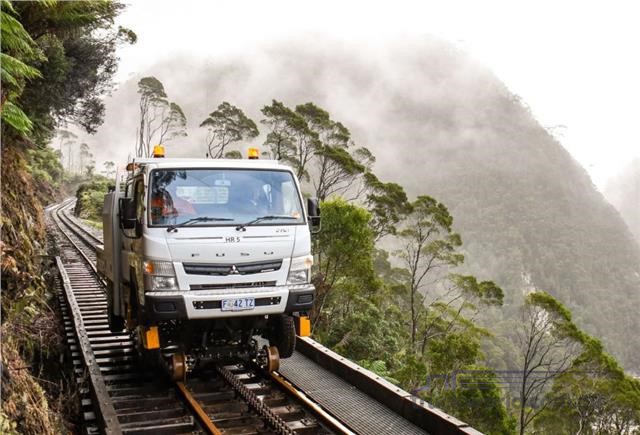 It's not every day that you see a truck that can travel on both road and railway, but that's exactly what this customised Fuso Canter 4x4 is designed to do. The specialised Fuso Canter was chosen for use on the West Coast Wilderness Railway in Tasmania, running through the rainforest, over 40 bridges, and up and down steep terrain. Until the Fuso Canter 4x4 became available, a pair of older Mazda trucks were used to get the job done. But the West Coast Wilderness Railway organization decided to work with CJD Equipment and Fuso to get two new vehicles that could handle the difficult task of traveling down rough trails and on steep rails.
Purpose-Built For Road & Rail
Aries Rail, a Perth-based company offering design, engineering, and manufacturing for the rail industry, converted the Fuso trucks. What makes them unique is that Aries Rail outfitted them with steel rail wheels on the front, which drop down and take the weight of the truck away from the vehicle's standard rubber wheels. Then, in the rear, two more steel wheels drop down, but the Canter's standard wheels are still used to generate power. This makes it so the vehicle can operate well on surrounding trails nearby the tracks, but also get on the tracks whenever necessary.
A Difficult Job
The main job for the Fuso Canter 4x4 is to get started early in the morning before tourists arrive to go along the track and check for fallen tree branches and other debris that could make it difficult for the historic steam engines—built in 1896, 1898, and 1938—to push through. The truck itself comes with a crane and packs chainsaws and other tools designed to clear away heavy trees. In fact, the railway organisation points out that large trees, complete with their attached root systems and dirt, will fall onto the track but can be easily cleared with a five-man crew and the tools aboard the Canter.
The Fuso Canter Range
The West Coast Wilderness Railway is taking advantage of the Fuso Canter 4x4 model, but there are numerous other trucks in the Canter range available for other uses. Some examples include the 4x2 range, Eco Hybrid, Tipper range, and Crew Cab range. The diversity of options shows off the Fuso Canter's versatility, as different models can be used as general delivery trucks, work trucks, or even (as we've seen here) hybrid vehicles that can perform on trails and rails.
Related Articles
To The Moon and Back with Fuso
View Details
New 2008 Mitsubishi Fuso Rosa Deluxe leads the way
View Details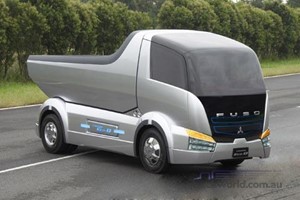 Fuso's hybrid Eco-D gives a strong hint to what the future holds.
View Details
The New Fuso Canter 4X4 Is Here!
View Details
Managing Noise in NSW
View Details
DaimlerChrysler Truck Group Again Posts Record Sales in 2006
View Details
Hyped Media choose Fuso
View Details
View More News
View all Related Ads