Fuso's New FG 4x4 Canter Shown Off At AFAC Event In Perth
Fuso Truck and Bus recently showed its new FG 4x4 Canter at the Australasian Fire and Emergency Service Authorities Council (AFAC) event that took place from September 5 through 8 in Perth. The model on display was a single-cab model with a Quick Corp light pumper body and a new shorter wheelbase, which gives it a turning radius of 11.4 metres. (Fuso says this is the best in the 4x4 Canter's class.) Fuso also offers a crew cab option for the truck, which seats seven passengers and has a longer wheelbase.
Standout Features
In addition to the shorter wheelbase, the 4x4 Canter features a step frame that offers better off-road clearance and a lower rear frame height for easier access. Buyers can specify a 6,500-kilogram gross vehicle mass or a 4,500-kilogram GVM variant that is drivable with a car licence. The 4x4 Canter's transmission also has a two-speed transfer case with crawler gears for climbing and descending hills, which is aided by high-traction tyres and a rear limited-slip differential. Other features include drum brakes, Electronic Brake Force Distribution, a hill holder function, reinforced CV joints, dual airbags for the driver and passenger, a reverse camera, and much more.
Ongoing Support
Fuso backs up its 4x4 Canter lineup with a five-year or 200,000-kilometre warranty. Canter models have 30,000-kilometre service intervals, but for additional protection, Fuso is currently offering free Best Basic scheduled servicing for all Canter models sold before September 30. This plan covers the vehicle for 100,000 kilometres or three years. For more information about everything covered by the Canter Best Basic scheduled service plan, visit fuso.com.au.
Related Articles
DaimlerChrysler Truck Group Again Posts Record Sales in 2006
View Details
Managing Noise in NSW
View Details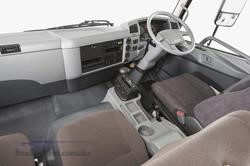 Introducing a new and improved Fuso Fighter
View Details
Not just a green dream. Recent tests prove Fuso's Canter Eco-Hybrid to be a real fuel saver in Australia!
View Details
New FUSO Canter Eco-Hybrid on display at Melbourne!
View Details
New 2008 Mitsubishi Fuso Rosa Deluxe leads the way
View Details
To The Moon and Back with Fuso
View Details
View More News
View all Related Ads