Fuso Grants eCanter Test Drives To Commercial Vehicle Journalists
Fuso Truck & Bus Australia recently gave commercial vehicle journalists a chance to test-drive the eCanter in Melbourne before it comes to the Australian market. The zero-emission, all-electric eCanter impressed test drivers with its quiet operation and quick acceleration. Fuso chalks that up to the 135-kilowatt (181-horsepower) electric motor with its 390 newton-metres of torque that not only provides instant power but also helps the truck slow down more quickly.
"Simply pressing the accelerator does not create any extra sound, but the truck takes off like a bullet," says Tim Giles of Diesel magazine. "The driver is pushed back into the seat by the swift acceleration and the most eerie part of the feeling is the fact that it is not accompanied by any noise."
Easy & Comfortable To Drive
Other positive feedback about the eCanter included how easy and comfortable it is to drive, with Giles adding, "The main impression from driving this truck is just how easily it appears to do the job." It is also relatively quick to recharge the six lithium-ion batteries with a CHAdeMO charger in less than two hours, and it has a range of 100 kilometres (62 miles), although Fuso expects that range to increase as battery technology advances.
Years In The Making
"It was not bolted together in a shed, but developed and tested by Daimler over a number of years, starting off life as the Canter E-Cell prototype that operated in its first public test program in 2015," says Daniel Whitehead, president and CEO of Daimler Truck and Bus Australia Pacific. "The eCanter will come with all the benefits of being backed by an established truck maker, including the assurance of parts, service support, and warranty coverage provided by our national Fuso dealership network."
Related Articles
Managing Noise in NSW
View Details
DaimlerChrysler Truck Group Again Posts Record Sales in 2006
View Details
To The Moon and Back with Fuso
View Details
New 2008 Mitsubishi Fuso Rosa Deluxe leads the way
View Details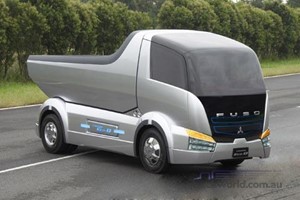 Fuso's hybrid Eco-D gives a strong hint to what the future holds.
View Details
The New Fuso Canter 4X4 Is Here!
View Details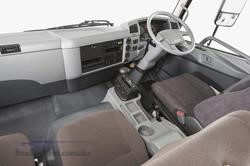 Introducing a new and improved Fuso Fighter
View Details
View More News
View all Related Ads