Fuso loses wait with Built Ready range
Get Your Next Canter Or Fighter Truck Sooner With Fuso's Built Ready Range
Fuso recently announced the availability of Built Ready Canter and Fighter trucks for Australian customers. While many Fuso trucks have, in the past, required you to complete a custom configuration and then wait for the build process to take its course, Fuso is now putting together prebuilt and preconfigured trucks, complete with cab, chassis, and body. If you fit into the wide range of industries that Fuso trucks serve and don't have too many unique requirements, then there's a good chance a Built Ready model will fit the bill and be ready to go to work right away
Fuso Canter Models
Fuso's Built Ready range includes the Canter Pantech with a box body, the Canter Alloy Tray, the Canter Factory Tipper, and the Canter Refrigerated Body. The Pantech is purpose-built for local deliveries and other general hauling applications; the Alloy Tray is designed with plumbers, landscapers, and builders in mind; the Tipper lets you transport various materials, like rock or stone, and then easily unload them; and the Refrigerated Body model is perfect for carrying food and other good that require colder temperatures. All Fuso Canter models include the company's five-year cab chassis warranty and one-year Built Ready body warranty to protect your investment.
Fuso Fighter Models
In addition to the four Built Ready Canter models, Fuso is also offering two Fighter models in its Built Ready range. One of those is a Tipper model, which has a GVM of 11,000 kilograms, a GCM of 20,000 kilograms, and a body with 3.2-millimeter 450-grade hardox sides and rear as well as a 5-millimeter 450-grade hardox floor. The other is a Fighter Tautliner, which comes in either a 10-, 12-, or 14-pallet configuration. This truck comes with either six or eight lift out hanging gates, which makes it much easier to unload with forklifts.
Related Articles
New 2008 Mitsubishi Fuso Rosa Deluxe leads the way
View Details
To The Moon and Back with Fuso
View Details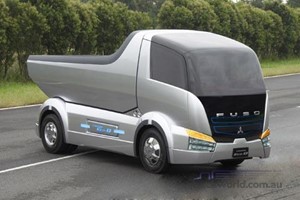 Fuso's hybrid Eco-D gives a strong hint to what the future holds.
View Details
The New Fuso Canter 4X4 Is Here!
View Details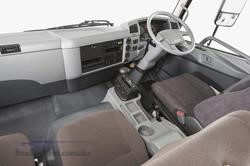 Introducing a new and improved Fuso Fighter
View Details
Not just a green dream. Recent tests prove Fuso's Canter Eco-Hybrid to be a real fuel saver in Australia!
View Details
Managing Noise in NSW
View Details
View More News
View all Related Ads