Fuso Officially Launches The Shogun Heavy-Duty Truck In Australia
Fuso recently launched its all-new Shogun heavy-duty truck in Australia. At the core of the Shogun is an 11-litre Daimler OM470 six-cylinder Euro 6 engine, which is available in two configurations: One produces 395 horsepower and 2,000 newton metres of torque, and the other generates 455 horsepower and 2,200 newton metres of torque. The OM470 was tested extensively in Australia, New Zealand, and Japan and proved to be efficient in terms of both fuel and AdBlue consumption. The Shogun also features a 12-speed automated manual transmission that "reduces driver fatigue and makes low-speed manoeuvring easy," according to Fuso.
"The Shogun is a revolutionary model for Fuso and the Japanese heavy-duty truck segment in Australia," says Justin Whitford, director of Fuso Truck and Bus Australia. "It will set new standards for Japanese trucks and deliver our customers a clear advantage thanks to cutting-edge Daimler technology that compliments its legendary Fuso toughness."
Technologically Advanced
Fuso designed the Shogun with an emphasis on safety, incorporating features such as adaptive cruise control with proximity control assist, advanced emergency braking, lane departure warning, and electronic stability control. The interior features a new ergonomic design with buttons on the steering wheel and all other controls within comfortable reach. Fuso also added a new seven-inch touchscreen display to the Shogun that features satellite navigation and Bluetooth support.
Ready For Primetime
The Shogun is available in prime mover and rigid configurations with GCWRs (gross combination weight ratings) of between 40,000 and 63,000 kilograms. It can also be specified for B-double applications with 4x2, 6x4, and 8x4 axle configurations with steel and air suspension options. New Shogun purchases are covered by a five-year/500,000-kilometre warranty when "registered and operated in normal conditions in Australia," Fuso says. Trucks used for "severe service applications," will instead have 12-month/50,000-kilometre warranties, according to the company.
Related Articles
New FUSO Canter Eco-Hybrid on display at Melbourne!
View Details
Hyped Media choose Fuso
View Details
2015 FUSO Fighter review
View Details
Fuso Canter ECELL trial results show real world savings
View Details
Trophy winning livestock Fuso Heavy stands out from the herd
View Details
Australia Post To Trial Fuso eCanter All-Electric Truck In Sydney Central Business District
View Details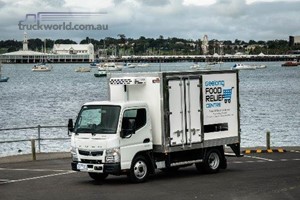 Geelong Food Relief Uses Fuso Canter For Deliveries
View Details
View More News
View all Related Ads