Fuso Presents Vision F-CELL Concept Light-Duty Truck At Tokyo Motor Show
Vision F-CELL is an electric concept truck that relies on fuel cell technology to extend the light-duty truck's range. Fuso premiered the concept at the 46th Tokyo Motor Show which ran from 24 October through 4 November. Fuso also showed off four other commercial vehicles, including the model year 2019 Super Great heavy-duty truck—said to be Japan's first series-produced commercial vehicle equipped with SAE (Society of Automotive Engineers) Level 2 automated driving technology.
Vision F-CELL
Fuso first released an all-electric truck back in 2017 with its eCanter; there are currently more than 140 eCanter trucks in service across Japan, Europe, and the United States. The concept light-duty truck with fuel cell technology gives the Vision F-CELL an estimated range of between 270 and 300 kilometres (168 to 186 miles). Fuso rates the Vision F-CELL at a gross vehicle weight of 7.5 tonnes, and the concept truck's maximum motor power is 135 kilowatts (181 horsepower) with a maximum continuous power of 75 kilowatts (100 horsepower) from the fuel cell technology and 135 kilowatts from the HV battery.
Also On Display
In addition to the Vision F-CELL and the 2019 "Super Great" heavy-duty truck, Fuso is highlighting its Aero Queen large coach bus designed with safety features like Active Brake Assist and Active Side Guard Assist. The Aero Queen also features Fuso's BusConnect connected fleet technology for real-time location and equipment monitoring. Similarly, the 2019 Rosa light-duty tour bus is on hand to display new safety features.
Related Articles
DaimlerChrysler Truck Group Again Posts Record Sales in 2006
View Details
Managing Noise in NSW
View Details
New 2008 Mitsubishi Fuso Rosa Deluxe leads the way
View Details
To The Moon and Back with Fuso
View Details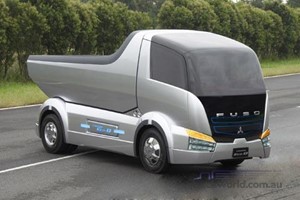 Fuso's hybrid Eco-D gives a strong hint to what the future holds.
View Details
The New Fuso Canter 4X4 Is Here!
View Details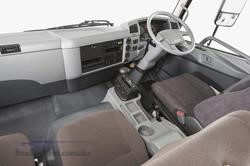 Introducing a new and improved Fuso Fighter
View Details
View More News
View all Related Ads