H2flow Hire Continues To Buy Into The Fuso Brand
H2flow Hire, a water services company based in Beenleigh, Queensland, that also offers rentals, purchased a number of Fuso vehicles in 2018 to bring its total to 74, most of which are Canter models with some Fighter and Heavy models sprinkled in. The company offers drinking water delivery, landscape watering, and other services, and its Dry Hire rental fleet consists of tipper, vacuum, water tanker, and water-spraying trucks. H2flow also converts some of its Canter trucks into 2000-litre water trucks for customers in the industries such as civil construction.
Scott Beioley, director and partner at H2flow Hire, admits the company "had a look around at a couple of other trucks," but ultimately chose to stick with the Fuso brand because its trucks are "very well designed and they work exceptionally well in these applications." H2flow decided to add more vehicles to the fleet to replace older models, but not because they had broken down. "The Fuso trucks that we were replacing were from 1994 and 1995 and they were still going strong, which is amazing given what the work they do," Beioley says.
Ease Of Use
H2flow Hire emphasizes user-friendliness with its rental vehicles, which is why the company opted for Duonic automated transmissions and safety features like handbrake reminders. "We were a bit apprehensive about the automated option, but they are very well designed and work exceptionally well. Duonics certainly represent the way forward for us," says Beioley. Hino says the nature of automated transmissions also removes the risk of damaging the clutch, as you'd get with a manual alternative.
More Fuso Canter Options
The Fuso Canter lineup consists of cab chassis and Built Ready models. The cab chassis lineup consists of a 4x2 model, crew cab models that can hold up to seven people, and a 4x4 range that's more suitable for off-road operations. The Canter Built Ready series includes the Pantech delivery truck, Canter Alloy Tray trucks, which are well suited for landscaping operations, Canter Factory tippers, and trucks with refrigerated bodies for hauling perishable cargo.
Related Articles
DaimlerChrysler Truck Group Again Posts Record Sales in 2006
View Details
Managing Noise in NSW
View Details
New 2008 Mitsubishi Fuso Rosa Deluxe leads the way
View Details
To The Moon and Back with Fuso
View Details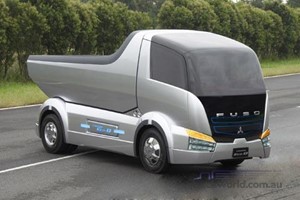 Fuso's hybrid Eco-D gives a strong hint to what the future holds.
View Details
The New Fuso Canter 4X4 Is Here!
View Details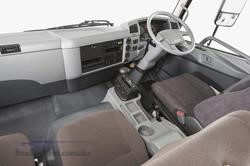 Introducing a new and improved Fuso Fighter
View Details
View More News
View all Related Ads