Hertz Licensee Australian Truck And 4WD Rentals Purchases 10 Fuso Canters With Active Emergency Braking
Australian Truck and 4WD Rentals, a licensee of Hertz, recently added 10 new Fuso Canters to its fleet largely because they come standard with several important safety features. All of the trucks have a radar- and camera-based active emergency braking system that can detect other vehicles as well as pedestrians and automatically apply brakes if necessary. Fuso points out that the Canter is "the only light-duty truck in Australia" to have such a feature. The truck also includes electronic stability control, lane departure warning, a reversing camera, and dual airbags.
"Safety Is Paramount"
"We are very excited to have the Fuso Canter with AEB join our Hertz fleet," says Paul Jukes, state manager for Australian Truck and 4WD Rentals. "The safety of our customers is paramount, so it makes sense to order a truck with the best safety equipment available. Having the pedestrian detection capability of the AEB is fantastic because many of these trucks operate in built-up areas."
Car-Like Driving Experience
All of the trucks in this order are Canter 515s that mimic the experience of driving a car thanks to their independent front suspensions and rack-and-pinion steering, as well as having what Fuso calls "class-leading tare weight." The trucks also boast Duonic dual-clutch automated transmissions and can be legally operated by drivers who only have car licences.
"The Duonic is fantastic for us and our customers," says Jukes. "It just makes it easy for our customers to concentrate on driving without having to worry about changing gears and managing the clutch. It also takes away the risk of clutch damage."
Related Articles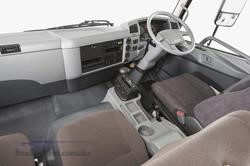 Introducing a new and improved Fuso Fighter
View Details
Not just a green dream. Recent tests prove Fuso's Canter Eco-Hybrid to be a real fuel saver in Australia!
View Details
New FUSO Canter Eco-Hybrid on display at Melbourne!
View Details
Hyped Media choose Fuso
View Details
2015 FUSO Fighter review
View Details
Fuso Canter ECELL trial results show real world savings
View Details
Trophy winning livestock Fuso Heavy stands out from the herd
View Details
View More News
View all Related Ads