Metroll's new Fuso Fighter is in it for the long haul
Metroll's new Fuso Fighter is in it for the long haul
New South Wales-based Metroll, which manufactures roofing, cladding, rainwater, structural, and fencing products, recently bought a new Fuso Fighter 2427 steel delivery truck using it to transport cargo out of Dubbo in all directions. Metroll Australia is a long-time Fuso customer, having purchased Fighter and Canter models in the past, the new vehicle makes deliveries over long distances and in widely varied environments.
"Out here in the bush, we cover a fair amount of kilometres," says Rob Okros, logistics manager for Metroll Dubbo. "We go out 300 kilometres in every direction from Dubbo, so it gets a fair workout. It covers all kinds of terrain from around Dubbo and Orange to Bathurst, Oberon, Mudgee, and the edge of the Blue Mountains."
Purpose-built for delivery
Metroll Dubbo's Fuso Fighter 2427 has been running for the company for about six months and was purchased from Hartwig's in Dubbo with a custom metal body specifically for delivery. The truck sports a 7.5-litre four-cylinder diesel engine that offers up 270 horsepower (201 kilowatts) and 784 newton meters of torque, as well as an Allison automatic six-speed transmission, though Fuso also sells models with a nine-speed Eaton manual transmission. Metroll's Fighter is rated at 23 tonnes and sports a Hiab crane for unloading in tight spaces.
Repeat customer, backed by Fuso
Cary James, Metroll Dubbo's General Manager, says that all of the company's trucks are "chosen on past performance," and "the Fuso Fighter has done a great job for a long time, so we have stuck with it." Fuso wants to make sure customers like Metroll get to enjoy that performance for as long as possible, which is why it offers five-year manufacturer warranties on all of its Fuso trucks. The Fighter 2427's warranty is for five years, 350,000 kilometres, or 7,000 hours, and also has 30,000-kilometre service intervals to keep vehicles out of the shop and on the road.
Related Articles
Managing Noise in NSW
View Details
DaimlerChrysler Truck Group Again Posts Record Sales in 2006
View Details
New 2008 Mitsubishi Fuso Rosa Deluxe leads the way
View Details
To The Moon and Back with Fuso
View Details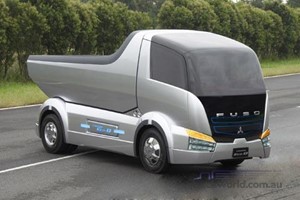 Fuso's hybrid Eco-D gives a strong hint to what the future holds.
View Details
The New Fuso Canter 4X4 Is Here!
View Details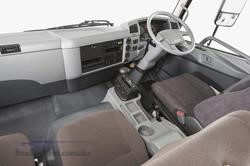 Introducing a new and improved Fuso Fighter
View Details
View More News
View all Related Ads