Standard Safety Features Sell Sydney-Based AKR Constructions On The Fuso Canter
Sydney-based AKR Constructions recently added a new Fuso Canter truck to its fleet primarily because of standard safety features, including electronic stability control, lane departure warning, and advanced emergency braking (AEB). AEB, in particular, was a major selling point for AKR as Fuso points out that the Canter "is the only light truck in Australia" to have that feature.
The AEB system uses front bumper-mounted radar and a dashboard-mounted camera to detect potential collisions and brake automatically if necessary. "I'm really glad that my truck has AEB and I reckon they should all have it," says Anthony Robson, owner of AKR Constructions.
Business & Pleasure
Covered by a five-year/200,000-kilometre (124,274-mile) warranty, AKR's new 515 Canter features a six-speed Duonic dual-clutch automated manual transmission, crew cab, and a tray with a larger payload capacity thanks to the Canter's "class-leading tare weight," Fuso says. Robson initially thought about purchasing a van cab chassis, but instead went with the light-duty Canter because it is less expensive and meets the needs of himself and his wife, two kids, and Australian Bulldog.
"I chose the Canter with a crew cab because I needed a decent-sized tray as well as additional space for the family at weekends," says Robson. "It does the job well at work and then you can head off on holidays with room for everyone and all their stuff without having to tow a trailer. Being a truck, the Canter is easily able to handle my requirements."
More Fuso Canter Details
The Fuso Canter is available as a 4x2, 4x4, or crew cab and chassis, with the crew cab having seating for up to seven passengers. It's also available with a factory-built Pantech box body, alloy tray, or tipper body. Being in the light-duty category, the Canter has a gross vehicle mass of between 3,500 and 8,550 kilograms (7,716 and 18,850 pounds), depending on the configuration.
Related Articles
Managing Noise in NSW
View Details
DaimlerChrysler Truck Group Again Posts Record Sales in 2006
View Details
New 2008 Mitsubishi Fuso Rosa Deluxe leads the way
View Details
To The Moon and Back with Fuso
View Details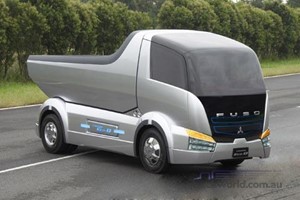 Fuso's hybrid Eco-D gives a strong hint to what the future holds.
View Details
The New Fuso Canter 4X4 Is Here!
View Details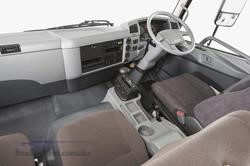 Introducing a new and improved Fuso Fighter
View Details
View More News
View all Related Ads