Sunshine Coast-Based Dad's Pool Shop Purchases Fuso Canter Based On Family Input, Standard Safety Features
Dad's Pool Shop, a pool equipment, accessories, and supplies provider based in Maroochydore in the Sunshine Coast, recently chose a Fuso Canter as a replacement for an aging truck. The company largely chose the vehicle for its Safety Pack, a suite of safety features that includes automatic emergency braking, lane departure warning, and electronic stability control that is standard on all Fuso Canter models aside from the 4x4 configuration. All Canters also come with a reversing camera for improved rear visibility.
Runs In The Family
Dad's Pool Shop Owner George Dubrava says his dad had a positive experience with a Canter in the past, so that endorsement, combined with the safety suite, convinced him to opt for the model to replace his old truck. "Safety is very important in my industry, so it makes sense for me to operate the safest small truck available. Thankfully, I haven't needed the help of this technology yet, but it is reassuring to know that it is there in background," says Dubrava. "It's a lot nicer to drive, that is for sure. The Canter has all the mod-cons and is really more like a car than a truck. It certainly does everything that I need it to, so that I can get on and grow my business."
Other Standout Features
Dubrava's new Canter is a 515 City Cab that "fits perfectly down the tight driveway and fits neatly in his garage," Fuso says. It features a dual clutch automated manual transmission and what Fuso describes as a "car-like independent front suspension." The truck is covered by a five-year/200,000-kilometre warranty.
Related Articles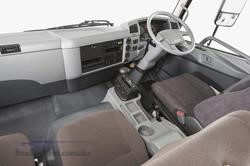 Introducing a new and improved Fuso Fighter
View Details
Not just a green dream. Recent tests prove Fuso's Canter Eco-Hybrid to be a real fuel saver in Australia!
View Details
Managing Noise in NSW
View Details
DaimlerChrysler Truck Group Again Posts Record Sales in 2006
View Details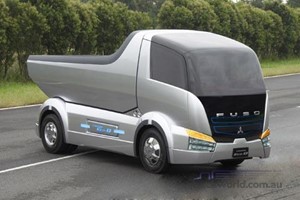 Fuso's hybrid Eco-D gives a strong hint to what the future holds.
View Details
The New Fuso Canter 4X4 Is Here!
View Details
New 2008 Mitsubishi Fuso Rosa Deluxe leads the way
View Details
View More News
View all Related Ads