This Fuso Canter Spends Every Day At The Beach
Nudgee Beach is home to a unique Brisbane business, Bean and Bark, that is a combination dog wash service, dog day care service, coffee caravan, and food truck. Serving humans and dogs alike, Bean and Bark allows beach goers to grab a coffee or something to eat while waiting for their dogs to be washed after a day at the seaside. "People can bring their dogs along and let them really enjoy the beach, run amok, and get absolutely filthy; then get washed before heading home," explains co-owner Danule Taylor. Fuso's 515 City Cab Canter is a key part of Bean and Bark's mobile business.
A Canter Beach Caravan
Bean and Bark owners are experienced chefs, and they serve food and drink from a customized 1970s caravan they've converted into a food van. For the dog wash, Bean and Bark must also haul an IBC (intermediate bulk container) water cube on a tray. The payload proved to be too much for the ute Bean and Bark initially used. "It was really too much for it," says Danule. "It was struggling and a few things started to break." But the 515 City Cab Canter easily handle the caravan and dog wash. Bean and Bark's Built Ready model even comes with an aluminium tray as standard, which now provides plenty of room for the water tank and all the dog wash gear.
515 City Cab Canter Features
The light-duty 515 City Cab Canter is filled with features that make it easy drive around town. Take, for example, the standard Duonic dual-clutch Automated Manual Transmission and independent front suspension, providing the Canter with a more care-like ride. Fuso says the Canter is the only light-duty truck in Australia to be fitted with an automatic emergency braking system (Advanced Brake Assist), which is now standard on all new models except for the off-road Canter 4x4. Lane Departure Warning and Electronic Stability Control are also standard features on the 4x2 Canter models.
Related Articles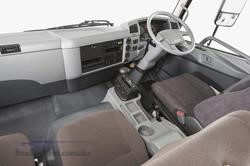 Introducing a new and improved Fuso Fighter
View Details
Not just a green dream. Recent tests prove Fuso's Canter Eco-Hybrid to be a real fuel saver in Australia!
View Details
New 2008 Mitsubishi Fuso Rosa Deluxe leads the way
View Details
To The Moon and Back with Fuso
View Details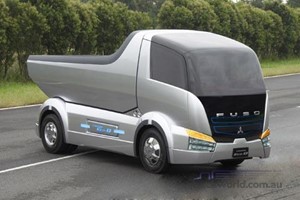 Fuso's hybrid Eco-D gives a strong hint to what the future holds.
View Details
The New Fuso Canter 4X4 Is Here!
View Details
Managing Noise in NSW
View Details
View More News
View all Related Ads