Commitment to customers guides Hino organisational changes
Reflecting its ongoing focus on serving its customers, Hino Motor Sales Australia has announced a number of organisational changes within its Brand and Franchise division. Hino Australia's Customer Experience and Marketing departments will now operate under the one department, with Dimitri Andreatidis appointed to the newly created role of Head of Customer and Brand. Mr Andreatidis has been Hino Australia's National Marketing Manager since September 2017. "This is a vital change for Hino as we seek to combine our Customer Experience direction with greater synergy between our overall Sales, Customer and Marketing areas," said Bill Gillespie, General Manager for Brand and Franchise Development.
In a further appointment, Brian Wright has been named National Sales Manager for Hino with all Dealer Sales and National Fleet teams as direct reports. "The sales area has grown significantly in 2018 and we aim to continue that growth in both retail sales and in the highly competitive area of fleet sales in 2018 and beyond." Hino Australia is also expanding its Product team with the creation of a new Applications Engineer role as it looks towards the introduction of new models in the coming years. "This expansion will ensure further support to our dealer network and ensure that Hino can respond to the contemporary customers' expectations on product development," Gillespie concluded. Both Andreatidis' and Wright's new roles were effective from Monday 2 July, 2018.
SOURCE: Hino Australia
Related Articles
SAT NAV with Hino Steel Ace and Trade Ace
View Details
Cameron's Bubbling Over with Hino
View Details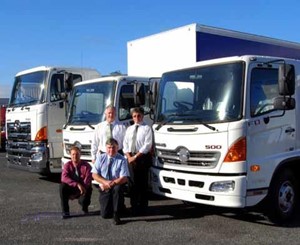 New HINO dealer for TASMANIA
View Details
New Hino Dealer For GRAFTON
View Details
HINO hails 30 per cent Business Tax Break
View Details
Hino recognises CFA heroism
View Details
Clock tick on TRUCK TAX BREAK
View Details
View More News
View all Related Ads