Hino's 300 Series Light-Duty Trucks Don't Require Truck-Licenced Drivers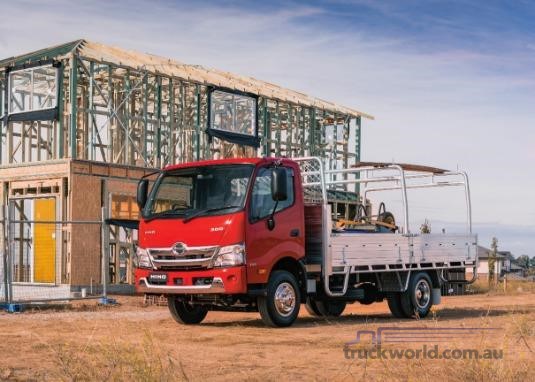 The revised 300 Series light-duty truck range from Hino addresses a shortage of drivers licenced for larger vehicles, as well as the increase in delivery requirements from online shopping. The new 4x2 family can be configured with a 4.5-tonne gross vehicle mass (GVM), making it drivable by operators with a passenger car licence.
Up To The Task
Hino 300 buyers can choose one of two engines. The 4-litre motor is a common-rail turbodiesel with up to 165 horsepower (123 kilowatts) and 464 newton-metres of torque, depending on configuration. The 5-litre engine, meanwhile, can produce up to 205 hp (153 kW) and 600 N-m of torque. An enhanced hybrid electric-diesel drivetrain will also be available, providing Euro 6 emissions compliance and up to 21% better fuel economy.
Easy-Driving
"Adding to the appeal of the 300 Series for the trades and delivery markets is the true automatic transmission, which makes the transition from a 1-tonne ute or van to a light-duty truck even easier," says Hino Australia Manager of Product Strategy Daniel Petrovski. "Hino continues to be the only Japanese truck manufacturer to offer the advantage of a true automatic transmission across the light-duty 4x2 model range."
Among the gearbox options for the truck series are a six-speed double overdrive true automatic, as well as a five- or six-speed manual.
Related Articles
Hino 300 series - greater value, more efficient
View Details
HINO HYBRID NAMED TRUCK OF THE SHOW
View Details
Hornsby Council opts for Hino Hybrid
View Details
HINO is Australia's fastest growing TRUCK brand
View Details
Dealer of the year just one year old
View Details
Hino Increases model range across all grades
View Details
HYBRID OFFERS RUNNING COST AND ENVIRONMENTAL BENEFITS
View Details
View More News
View all Related Ads