Hino 500 FE 1424 To Serve As Recovery Truck At Bathurst 1000
Hino is debuting the 500 Series FE 1424 at the Bathurst 1000, where the truck will serve as the official recovery vehicle for The Great Race. "The debut of the Hino Official Recovery Truck allows us to demonstrate the power and handling of the new 500 Series Standard Cab in one of the most challenging environments at Mt Panorama on race day," explains Bill Gillespie, General Manager Brand and Franchise Development at Hino Australia. "The Bathurst 1000 race traditionally involves lots of on-track work and the new 500 Series Supercars recovery truck is set to see plenty of action on race day, and in the support events over the weekend."
FE 1424 Details
Known for its power and handling, Hino's 500 Series Standard Cab medium-duty trucks feature Hino's A05 turbocharged 5-litre, four-cylinder diesel engine. FE 1424 models provide 240 horsepower (179 kilowatts) at 2,300 rpm with impressive torque of 833 newton metres at 1,400 rpm. The 500 Series Standard Cab comes with a comprehensive safety package, including a Pre-Collision System, which includes Autonomous Emergency Braking, Pedestrian Detection, and Safety Eye technologies. When taken together, the 500 Series Standard Cab lineup includes more than 50 vehicle specifications across the FC, FD, and FE models.
Where You Can See It
Hino indicates that the FE 1424 will be in action at the Gold Coast, Sandown, Newcastle, Townsville, and the 2020 Sydney SuperNight rounds of the Championship.
Related Articles
Hino backs international star for Rally SA
View Details
Taylor hits the ground running in scouts rally SA
View Details
Hino 3.9% Finance offer returns
View Details
Hino puts new spark into 2013 Tokyo Motor Show
View Details
Digital Radio Hits Fever Pitch with Hino
View Details
Record Sales for Hino as Toyota Group Surges Ahead
View Details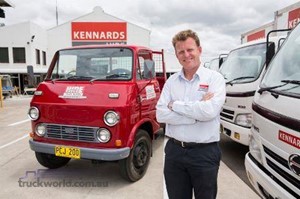 Hinos strong genes lend themselves to museum display
View Details
View More News
View all Related Ads