Hino 500 Series Wide Cab sells 500 units in first year, nearly 700 units overall
Hino Australia's 500 Series Wide Cab had a successful debut, selling 500 units in the first 12 months and just under 700 units total since it launched in February 2017. Hino sales in general have been impressive over the past year, with a 26% increase in year-to-date sales that is just over the 24% figure put up by the entire Australian truck market. There has also been a 37% year over year increase in heavy-duty truck sales. "For Hino, this means we have doubled our heavy duty sales year-to-date," said Bill Gillespie, Hino Australia General Manager of Brand and Franchise Development, in a news release.
Versatility & special features
Hino attributes much of this success to the versatility of its 500 Series Wide Cab models, which have a broad range of capabilities that make them a fit for cargo transport, waste management, construction, and mining, among other industries. Some of those features include Vehicle Stability Control (VSC) and a reverse camera with night vision and a microphone, both of which come standard on all 500 Series Wide Cab models.
"Available across the range, the six speed Allison automatic transmissions have proven to be extremely popular," says Gillespie, adding that Hino's "customers now have a transport solution that is the safest medium-duty Japanese truck in the class and one of the easiest to operate." Another important feature is Electronically Controlled Air Suspension (ECAS) in the rear of the truck, which makes it possible for operators to program suspension configurations that match up with the heights of loading docks.
Hino advantage
Any conversation about Hino trucks must include mention of Hino Advantage, the manufacturer's platform of solutions that help fleet managers and drivers get the most out of their Hino vehicles. Hino Advantage provides access to Hino Genuine parts and accessories, dedicated customer care centres, expert technicians, and price caps on vehicle servicing. Roadside assistance is also included in case of emergency and Hino Traq telematics for keeping tabs on fleets and fleet management. All of these services come together to offer an extra layer of monitoring and protection for vehicles that are already built to last.
Related Articles
Hino recognises CFA heroism
View Details
Clock tick on TRUCK TAX BREAK
View Details
Tax breaks aids tippers
View Details
SAT NAV with Hino Steel Ace and Trade Ace
View Details
Cameron's Bubbling Over with Hino
View Details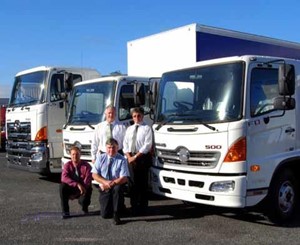 New HINO dealer for TASMANIA
View Details
New Hino Dealer For GRAFTON
View Details
View More News
View all Related Ads