Hino Announces Milne Bros As New Dealership In Central Queensland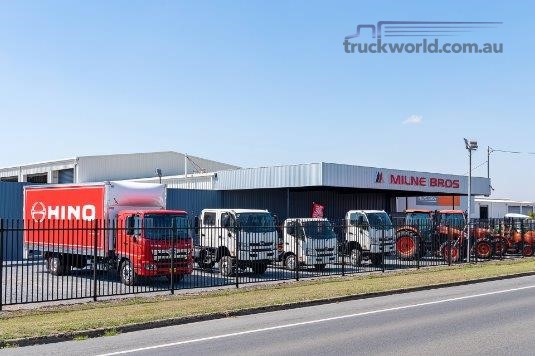 After Carlisle Hino's Dealer Principal Richard Deguara retired, the truck manufacturer appointed Milne Bros in Mackay its new dealership in the central Queensland region.
"We are delighted to welcome the well-regarded Milne Bros company to the Hino family," says Hino Australia General Manager of Brand and Franchise Development Bill Gillespie. "Milne Bros will combine its experience and reputation as the longest-established agricultural machinery dealership and tractor sales business in the region with the truck industry expertise of former Carlisle Hino employees. The change is already delivering results—the first three months of business, they have experienced significant sales success, and we are pleased to see them off to an excellent start."
Milne Bros Hino
Milne Bros Hino is run by Sterling Milne (Dealer Principal and grandson of the company co-founder Stan Milne), his father Ron, and their business partner Dale Walters.
"Our company has a long and proud history in Central Queensland, dating back to my grandfather and his twin brother establishing Milne Bros over 50 years ago," says Sterling Milne. "Our dealership is situated on the Bruce Highway as you enter Mackay from the south, which gives us great exposure. The purpose-built truck dealership features a large double-door drive-through workshop with two new hoists, a new reception area, plus a large area for customer parking and truck storage."
As for the brand to which Milne Bros is now allied: "Hino holds a strong position in the market place and has a reputation for manufacturing trucks of excellent quality," Milne says. "In addition, Hino offers excellent support to its dealers.
"The future looks really positive for the Hino brand and it is a great fit for Milne Bros going forward," says Milne. "This is a very exciting expansion for our business and we are very confident of further growing the Hino brand in Central Queensland."
Hino Australia Dealer News
"Hino's extensive sales and servicing network has continued to grow with upgraded or new facilities around the country, including Taree, Wodonga, and Wagga (New South Wales); Lonsdale (South Australia); Kalgoorlie, Newman, Onslow, and Port Headland (Western Australia); and Alice Springs (Northern Territory)," over the past 18 months, Gillespie says.
Related Articles
Hino 300 series - greater value, more efficient
View Details
HINO HYBRID NAMED TRUCK OF THE SHOW
View Details
Hornsby Council opts for Hino Hybrid
View Details
HINO is Australia's fastest growing TRUCK brand
View Details
Dealer of the year just one year old
View Details
Hino Increases model range across all grades
View Details
HYBRID OFFERS RUNNING COST AND ENVIRONMENTAL BENEFITS
View Details
View More News
View all Related Ads