Hino Australia Announces 500 Series GT 4x4 Updates At AFAC 2019 Conference
At the 2019 AFAC (Australasian Fire and Emergency Service Authorities Council) conference, which runs from 27th to 30th August in Melbourne, Hino Australia announced a series of upgrades coming to its 500 Series GT 4x4 truck. The 500 Series GT 1528 will be available in the first quarter of 2020 and "will boast more power and torque, and an increased payload" according to the company. The truck will be available as a single cab or crew cab and has a GVM (gross vehicle mass) of 14.5 tonnes thanks to its 5.5-tonne front axle and 10-tonne rear axle.
"The current 500 Series GT 1322 has been a popular choice for off-road work among various Australian emergency services, the mining industry, and infrastructure support applications, and we are confident these changes will further increase its appeal," says Daniel Petrovski, manager of product strategy for Hino Motor Sales Australia. "When this GVM is combined with the relatively low tare weight of the GT 1528, it results in a nominal payload of approximately 9 tonne, which will please operators of these large 4x4 models."
Engine, Transmission & More
The 500 Series GT 1528 features a turbocharged Hino J08 six-cylinder engine that produces 280 horsepower and 824 newton metres of torque. It meets ADR80/03 standards as well as Euro 5 emissions standards using Hino's DPR (Diesel Particulate active Reduction) system. It also features an Allison 2500 Series automatic transmission, which "makes the role of the emergency service driver easier by eliminating the need to shift gears," Petrovski says. Other features include a 6.5-inch multi-touch screen with radio, Wi-Fi, and Bluetooth, and support for speech to text capability and hands-free calling.
Safety Features
Hino also emphasised safety with the 500 Series GT 1528, which comes standard with ABS (anti-lock brake system), cruise control in the single cab configuration, an SRS (supplemental restraint system) airbag on the driver's side, electrically operated mirrors, an ISRI 6860/870 driver's seat with safety belt, and reverse camera. Hino says it will release more information, including specifications and pricing, in early 2020.
Related Articles
Hino launches heavy duty truck with AMT
View Details
Special cars get special transport
View Details
Hino breaks new ground in Warrnambool
View Details
Hino gets ready for Dakar rally
View Details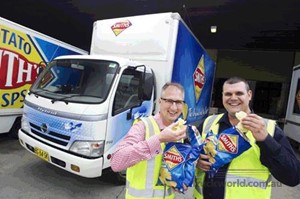 Smiths further expands Hino hybrid fleet
View Details
Hino to launch New-Generation 300 series
View Details
Hino to launch new generation 300 series
View Details
View More News
View all Related Ads