Hino Australia Demos On-Demand Commuter Abilities Of Poncho Bus Model At BusVic Bus Expo & Maintenance Conference
Attendees of the early-October 65th BusVic Bus Expo and Maintenance Conference in Melbourne saw up close and in action Hino Australia's Poncho bus, which is participating in an on-demand bus service operating in Sydney. Backed by Transit System Australia and the private commuter shuttle business Bridj, the program enables commuters in Sydney's Region 6 to reserve a dedicated seat via mobile app on a Poncho and experience a "new way to use public transport," says Hino Australia.
Meeting Real-Time Requirements
Hino Australia says the on-demand bus service blends "both mass and on-demand transit, making catching public transport easier than ever before." Trial services running throughout New South Wales since 2017 "have been successful in better connecting customers with existing mass transit services," the company says. The smaller capacity of the Poncho—described as a "long-term solution for community transport in Australia"—helps drivers respond to commuter travel requirements in real time, Hino Australia says.
According to Hino Product Strategy Manager Daniel Petrovski, Hino Australia has worked with Hino Japan for several years to pinpoint and introduce "the right bus for the community transport market." In addition to the Poncho's public transport potential, he says, the Poncho also provides an affordable option to such organisations as aged care providers, schools, and universities. "There really isn't another bus like it in the Australian market," Petrovski says.
The Poncho
Measuring less than 7 metres long, the Poncho uses a five-speed Aisin A500 automatic transmission with torque converter and a J05E-TS four-cylinder common-rail turbo-diesel engine that generates 180 horsepower (134 kilowatts). Already fully compliant with the Disability Discrimination Act 1992 set for full implementation in 2022, the Poncho also features an ultra-low floor design, kerb kneeling function, wheelchair ramp, and dedicated internal wheelchair space. Safety features include air-over-hydraulic brakes with ABS, three emergency exits, an infrared night-vision reverse camera, and 850-millimetre slide door with touch technology and sensors.
Related Articles
Hino backs international star for Rally SA
View Details
Taylor hits the ground running in scouts rally SA
View Details
Hino 3.9% Finance offer returns
View Details
Hino puts new spark into 2013 Tokyo Motor Show
View Details
Digital Radio Hits Fever Pitch with Hino
View Details
Record Sales for Hino as Toyota Group Surges Ahead
View Details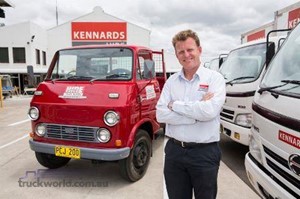 Hinos strong genes lend themselves to museum display
View Details
View More News
View all Related Ads