Hino Australia Honors Company's Top Australian Hino Dealers For 2019 Service
With hundreds of guests in attendance (including Hino Motors Global Chairman Yasuhiko Ichihashi) Hino Australia recently staged its annual Dealer of the Year Awards in Sydney. In addition to the presentation of Metropolitan and Regional Dealer of The Year awards, the ceremony included the Salesperson of The Year award and awards for excellence in parts, sales, and customer experience categories. Victoria's Prestige Hino (Dandenong) won Metropolitan Dealer of the Year honors for the fifth consecutive year, while West Orange Motors of New South Wales won the Regional Dealer of the Year for the second time in three years.
Embracing A Vision
Speaking on his company's Dealer of the Year honor, Angelo Valerio, Prestige Hino dealer principal, said that while winning the Metropolitan Dealer of the Year several consecutive years might signify "you're definitely doing everything right," winning five straight years means something different. "What it means to me is we have achieved a critical mass of employees who have passionately embraced our vision for Prestige Hino to be the trucking partner of choice for Australian enterprise," he said. Aaron Daniel, West Orange Motors dealer principal, meanwhile, noted his company's happiness in winning the Regional award "at a time when regional areas are facing a crippling drought and tough economic conditions."
Prestige Hino also won the Customer Experience - Sales award in the Metropolitan category, and Danny Timewell, Prestige Hino national fleet sales manager, won Salesperson of the Year for the second straight year. West Orange Motors, meanwhile, also won Parts Excellence - Regional top honors. Other items of note included WA Hino Sales & Service of Perth winning the Hino Financial Services Award, Victoria's Till Hino (Geelong) winning Sale Excellence - Regional top honors, and Queensland's Pacific Hino (Brisbane) winning the Customer Service - Regional award. In addition, South Australia's CMI Hino Adelaide was honored with the Service Excellent – Metropolitan award, and recognised for its 50-year partnership with Hino Australia.
Customer Experience Success
Of the winners, Steve Lotter, Hino Motor Sales Australia chairman and CEO, said, "Customer experience is extremely important to Hino and a cornerstone of our success in recent years, so it's fitting that our annual awards duly recognise outstanding achievement in this field in both the sales and service sectors."
Related Articles
Hino backs international star for Rally SA
View Details
Taylor hits the ground running in scouts rally SA
View Details
Hino 3.9% Finance offer returns
View Details
Hino puts new spark into 2013 Tokyo Motor Show
View Details
Digital Radio Hits Fever Pitch with Hino
View Details
Record Sales for Hino as Toyota Group Surges Ahead
View Details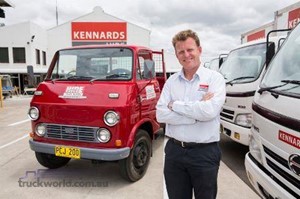 Hinos strong genes lend themselves to museum display
View Details
View More News
View all Related Ads