Hino Australia Releases First Photos Of New 300 Trucks Set For July Availability
New Hino 300 Series truck models for 2020 will be available in dealerships nationwide beginning in July, but if you want to know the exact wait time you're facing until then, just head to Hino Australia's website, where a countdown on the firm's homepage will show you. To whet customers' appetites, the company also just released the first photo of a 2020 Hino 300 Series truck, showing the front end, grille, and Hino emblem on a cherry-red model.
Registration Available
In addition to the countdown counter and first photo, Hino Australia also has a Register Your Interest button on its site that enables interested parties to receive updates on the new 300 Series models, as well as indicate to Hino the time frame they're thinking of possibly buying a new 300 Series truck.
More Details To Come
Hino Australia Product Strategy Manager Daniel Petrovski says, "With an expanded model lineup, the new 300 Series will once again be a leader in safety while maintaining its excellence in drivability." Hino Australia plans to release additional details as the series' July launch date gets closer. For now, it says the series is the "truck we've all been waiting for," and that it will be "built to be a leader in safety, power, and efficiency."
Hino Australia's current 300 Series of light truck, tipper, crew cab, and hybrid vehicles numbers roughly 70 models, including Standard Cab, Wide Cab, SteelAce, TradeAce, WorkAce, and Tipper variants.
Related Articles
Hino backs international star for Rally SA
View Details
Taylor hits the ground running in scouts rally SA
View Details
Hino 3.9% Finance offer returns
View Details
Hino puts new spark into 2013 Tokyo Motor Show
View Details
Digital Radio Hits Fever Pitch with Hino
View Details
Record Sales for Hino as Toyota Group Surges Ahead
View Details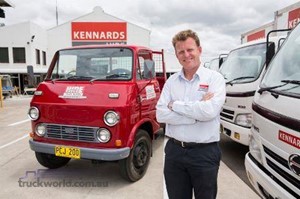 Hinos strong genes lend themselves to museum display
View Details
View More News
View all Related Ads