Hino Australia Releases New Safe, Powerful & Versatile 500 Series Standard Cab Lineup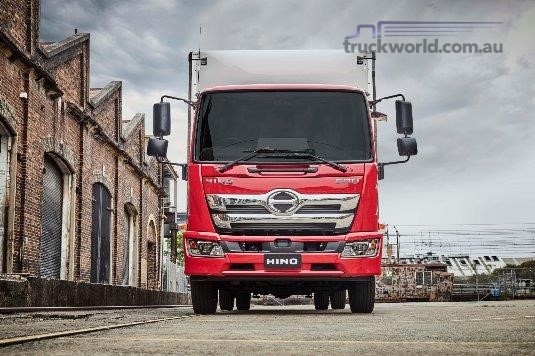 Hino Australia Releases New Safe, Powerful & Versatile 500 Series Standard Cab Lineup
Hino Australia recently released its new lineup of 500 Series Standard Cab medium-duty trucks. The vehicles in this series offer a wide range of engine and transmission options and gross vehicle mass (GVM) ratings, and they boast such advanced safety features as adaptive cruise control, lane departure warning, vehicle stability control, anti-lock brakes, and much more. The Hino 500 Series Standard Cab range also meets Japan's Post New Long Term (pPNLT) and Europe's Euro 6 emissions standards, which illustrates Hino's dedication to helping the environment.
"Our commitment to the environment at a local and global level goes far beyond the cleaner, greener operation of the new truck," says Daniel Petrovski, manager of product strategy for Hino Australia. "Not only has Hino produced a truck that already meets future exhaust gas emissions regulations, we have also produced a truck made of materials that will allow at least 95 percent of the vehicle (by weight) to be recycled at the end of its life."
Engines & Transmissions
Alongside its 500 Series Standard Cab lineup, Hino also introduced its heavy-duty A05 diesel engine, which is available in several configurations. FC 1124 and FD 1124 models feature the A05-TE, which produces 240 horsepower (177 kilowatts) and 794 newton-metres of torque; the FE 1424 crew models have a 240-horsepower A05-TD engine that produces 833 newton-metres of torque; and the FD 1126 and FE 1426 models have A05-TC engines that produce 260 horsepower (191 kilowatts) and 882 newton-metres of torque.
Hino offers Allison 2500 Series automatic transmissions as an option on all of its 500 Series Standard Cab models, but provides a number of manual transmission options, as well. FC 1124 and FD 1124 models have Hino LX06 six-speed manual transmissions, FD 1126 models have a six-speed manual MX06 transmission, FE 1426 models have an MX07 seven-speed manual transmission, and FD and FE models have an option for the Hino Automated Manual Transmission (AMT).
Versatility & Comfort
Hino's FC and FD models both have a GVM of 11,000 kilograms, while the FE models have options for GVMs of 12,000 kilograms or 14,000 kilograms, depending on the configuration. Other cab options for these models include a Short Cab for the FC, Crew Cab for the FD and FE, and a Rest Cab that meets Australia Design Rule (ADR) 42 sleeper standards, also for the FD and FE. In addition, the FC is available as a factory-built tipper truck.
Inside the cab, you'll find an ISRI NTS2 driver seat and ergonomically placed dash and controls for maximum driver comfort. This includes an LCD Multi-Information Display, smart Multi-media touch-screen display, new instrumentation, and a rotary gear selector with Drive, Neutral, and Reverse selections for trucks with automated manual transmissions. Hino's 500 Series trucks also feature a multi-function steering wheel with rotary controls for the Multi-Information Display and adaptive cruise control system. On the exterior, you'll find a newly designed grille with a large Hino badge as well as LED lamps on the FD and FE models.
Related Articles
Hino 300 series - greater value, more efficient
View Details
HINO HYBRID NAMED TRUCK OF THE SHOW
View Details
Hornsby Council opts for Hino Hybrid
View Details
HINO is Australia's fastest growing TRUCK brand
View Details
Dealer of the year just one year old
View Details
Hino Increases model range across all grades
View Details
HYBRID OFFERS RUNNING COST AND ENVIRONMENTAL BENEFITS
View Details
View More News
View all Related Ads