Hino Australia Wins Parts Department & Service Department Of The Year, Also Earns Parts Excellence Award
Hino Australia recently continued its string of success by winning Parts Department of the Year for the 12th consecutive year and Service Department of the Year for the ninth year in a row, as presented by Hino Motors Limited. The company was one of a handful distributors to receive a Parts Excellence Award as well, a sign that it has been able to provide a steady stream of parts and keep up with demand.
Adapting To Change
"It is a great honour to have the efforts of our local parts and service departments recognized and it's a tribute to the hard work and dedication of all involved," says Hino Australia General Manager of Product Support Greg Bleasel. Part of that hard work involved streamlining various processes to make Hino Australia's Product Distribution Centre more efficient as well as introducing online training programs in response to the COVID-19 pandemic. "We are proud of our achievements, and accolades like these will continue to push us to improve our service to dealers and customers," Bleasel says.
The Hino Advantage
Hino Australia points to the Hino Advantage as a major contributor to its recent and ongoing success. Hino Advantage is an overarching program that covers everything from customer service, Hino Genuine parts, and 24/7 roadside assistance to capped pricing, financing, Hino SmartSafe, and more. Genuine parts are particularly important because Hino Australia works to make sure they are always available and Bleasel says its pads and rotors, for example, provide more than 10% greater braking force than alternatives brands. Its Capped Price Service program also stands out thanks to a recent expansion.
"Hino Australia continues to lead the market with our capped price service program, which gives certainty to owners, while also lowering costs over the life of a truck," says Bleasel. "The latest expansion of this program is capped-price brake and clutch replacements on all Hino 300 Series trucks that meet Euro 5 emission standards."
Related Articles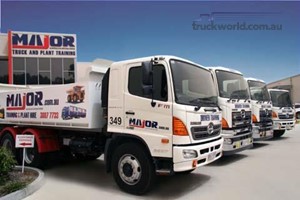 Major boost for Hino
View Details
Hire company says Hino is a smart tip
View Details
TNT increases Hybrid Truck Fleet
View Details
New HINO dealership for LISMORE
View Details
Complete portables stays ahead with HINO
View Details
Hino launches heavy duty truck with AMT
View Details
Hino breaks new ground in Warrnambool
View Details
View More News
View all Related Ads