Hino-Connect Telematics Will Come With All 500 Series Trucks As Standard
Hino Australia recently announced that Hino-Connect, the company's business intelligence system that provides real-time performance data, remote diagnostics, and specialist support, will be standard on all 500 Series vehicles plated from 1 January 2022. Hino-Connect is currently available as standard on the new Hino 700 Series and was designed and built in Australia by Directed Electronics. The system allows communication with the driver through the truck's Multimedia unit, which Hino says is a first in Australia. The company will offer a modified version of Hino-Connect with the business intelligence elements as an option on 300 Series light-duty trucks starting in January.
Hino-Connect Features
The system includes case management provided by the team of Hino-Connect Specialists who monitor repair progress to get the truck back on the road as soon as possible. Fleet managers can use the online portal and mobile app to access data such as fuel usage, cause and effect of driving performance, and safety alerts. Users also get live GPS tracking, detailed trip reports, geo-fencing, and movement without ignition alerts.
"At Hino, we are committed to placing our customers at the centre of our operations, by providing them with experienced specialists within the walls of our head office in Caringbah and, with Hino-Connect, we provide a complete support solution that minimises their downtime," says Gus Belanszky, general manager, service and customer support for Hino Australia. "Another feature Hino-Connect offers our customers is an API (Application Programming Interface) data feed, which is rFMS-compatible. For our multi-brand fleets, this allows them to plug the data from the Hino-Connect module straight into their own third-party fleet management system."
Free For Five Years
Operators of 500 Series Standard Cab, Wide Cab, and 4x4 trucks will receive five years of complimentary remote diagnostics and Hino-Connect Specialist support, which includes vehicle engine control monitoring, severe fault alerts, and case management of fault rectification. They also receive 12 months of complimentary business intelligence access, after which they may extend the access and API integration for up to 48 additional months.
"In developing Hino-Connect, we set out to build a system that would achieve this—it is more than technology, it's about making a difference in the lives of Hino customers," says Hino Australia Directed Electronics Executive Director Brent Stafford.
Source: Hino
Related Articles
Hino backs international star for Rally SA
View Details
Taylor hits the ground running in scouts rally SA
View Details
Hino 3.9% Finance offer returns
View Details
Hino puts new spark into 2013 Tokyo Motor Show
View Details
Digital Radio Hits Fever Pitch with Hino
View Details
Record Sales for Hino as Toyota Group Surges Ahead
View Details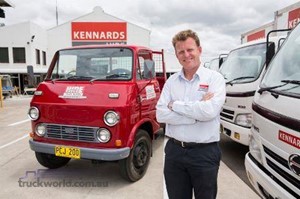 Hinos strong genes lend themselves to museum display
View Details
View More News
View all Related Ads