Hino Motors and Volkswagen Truck and Bus forge key transportation partnership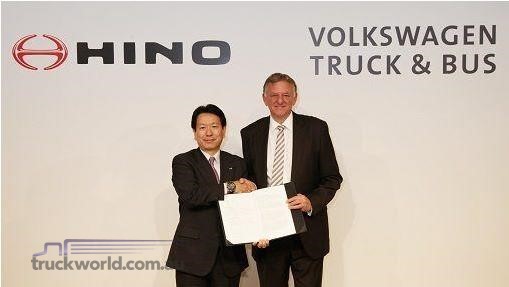 Japan's Hino Motors, a Toyota Motor-owned company, and Germany's Volkswagen Truck & Bus, a division of Volkswagen AG, signed a SFCA (strategic cooperation framework agreement) in mid-April that will see the companies forge a mutually beneficial long-term strategic partnership "on eye-level." The companies specifically plan to examine areas of cooperation concerning logistics and traffic solution research, new and existing technologies, and procurement. In the area of technology, the companies plan to focus on conventional powertrains, hybrid and electric powertrains, connectivity, and autonomous driving systems.
"A superior position"
In a news release, Hino and Volkswagen stated an aim to bolster their respective global transportation market positions while developing innovative technologies of high value to customers. An Alliance Board consisting of each company's CEO and other high-level managers will, among other things, explore and evaluate areas of cooperation concerning existing technologies. One example is determining if there's "room for jointly utilising conventional powertrains" to offer customers better products." Accessing initiatives concerning future transportation technologies is another focus area.
Hino is already a leading manufacturer of trucks, buses, and light commercial vehicles in the Asian region but offers products in 80-plus countries. Volkswagen Truck & Bus, meanwhile, claims leading manufacturing positions in Europe and Brazil via its MAN, Scania, Volkswagen Caminhões e Ônibus, and RIO brands. Volkswagen already has partnerships with Navistar in North America and Sinotruk in China. Together, Hino and Volkswagen believe they can achieve a "superior position to tackle the challenges of the industry."
Mutual respect
In a statement, Yoshio Shimo, Hino Motors president and CEO, pointed out his company's "Trucks and Buses that do more" slogan, detailing how the partnership can work toward this aim. In addition to pursuing regional business cooperation and jointly using technologies with Volkswagen, Shimo said the companies' partnership will "be a strong tie-up at times of new challenges" in the transportation field "due to the rapid growth of e-commerce."
Shimo detailed a shortage of drivers now occurring due to the rapid expansion of e-commerce and other businesses. Simultaneously, Shimo said an "aging of drivers" is occurring, while rural areas where populations continue to age, citizens are struggling with basic transportation needs, due to train and bus lines being phased out. "We cannot meet our customers' demands by just providing the same value as we did in the past," he said.
Shimo outlined three goals aimed at making "trucks and buses do more." They include providing "appropriate products with safety and environment technologies," providing "ultimately customised total support for customers," and "challenge new fields."
Andreas Renschler, Volkswagen Truck & Bus CEO, meanwhile, depicted the partnership with Hino as an "excellent fit in terms of regional footprints and products, but also concerning common ideas on how to shape the future of transportation together." Volkswagen's work with Hino, he said, will contribute to his company's strategy "to become global champion in the transportation industry by providing the highest value to our customers."
Related Articles
Hino recognises CFA heroism
View Details
Clock tick on TRUCK TAX BREAK
View Details
Tax breaks aids tippers
View Details
SAT NAV with Hino Steel Ace and Trade Ace
View Details
Cameron's Bubbling Over with Hino
View Details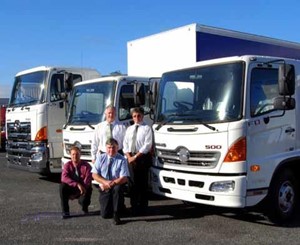 New HINO dealer for TASMANIA
View Details
New Hino Dealer For GRAFTON
View Details
View More News
View all Related Ads