Hino Says All-New 2021 700 Is The "Safest Hino Truck Ever"
Hino has announced its 2021 700 Series trucks, which boast an all-new design and expanded configuration options, including new axle variants and additional engine and transmission choices, which help meet a wider variety of customer needs and operating requirements. In addition, Hino says, the truck's safety package is the most comprehensive ever offered in a Hino.
"It breaks fresh ground for Hino in terms of safety and environmental commitment, which are key features that customers value in today's competitive marketplace," says Hino Australia Manager of Product Strategy Daniel Petrovski.
The all-new Hino 700 Series also complies with Euro 6 exhaust emission standards and exceeds current Australian emission standards.
Major Design Changes For 2021
New models in the 2021 700 series include both 4x2 and 6x2 rigid trucks designed for distribution applications, as well as 6x4 and 8x4 models catering to vocational applications and heavy-duty distribution. Hino offers the 2021 700 series with either an automatic transmission or AMT (automated manual transmission). "With the introduction of a true automatic transmission to our 700 series models, Hino is the only Japanese manufacturer to offer a true automatic transmission option across the light, medium, and heavy-duty model ranges," Petrovski says.
Hino makes select 700 Series axle configurations available with an A09C 9.0-litre engine that provides anywhere from 300 to 400 horsepower (224 to 298 kilowatts) on select axle configurations. On the top end, Hino's E13C engines are matched with the latest ZF 16-speed AMT TraXon TX 2441TO. "The reliability of the Hino E13C engine is already well-proven, and the improved version in the all-new 700 Series range is available in two power ratings of 450 horsepower and 480 HP," says Petrovski.
Safety For Drivers & Pedestrians
Most all of the 700 Series models feature Hino SmartSafe, a comprehensive safety package with today's latest driver assist technologies. (Series 700 8x4 models will be equipped with SmartSafe midway through 2022.) Just a few SmartSafe features include autonomous emergency braking, pedestrian detection, and a lane departure warning system. And for the first time, Hino SmartSafe includes a Driver Monitor system to provide visual and audio alerts if the in-cab camera detects drowsiness or a lack of attention from the driver.
All 700 Series models also come with an electronic brake system that replaces the conventional pneumatic brake system (and pneumatic signals) with electronic signals from the brake pedal to brake modulator valves. The electronic system also factors in the total weight of the vehicle and optimises the braking force for more consistent stopping performance.
A More Comfortable Cab
The all-new 700 Series interior takes cues from the 500 Series. "Feedback from drivers has been overwhelmingly positive since we first introduced the new-look interior on the 500 Series Standard Cab in 2019—they report that it is a more comfortable and relaxing work environment," Petrovski says.
Key features include an ergonomically designed wraparound dash that lets drivers easily see instrumentation, while steering wheel-mounted controls allow for safe and easy operation. "The steering column shifter allows the driver to switch the transmission mode between automatic and manual, and also manually select gears without having to take their hands off the steering wheel," says Petrovski.
Source: Hino
Related Articles
Hino backs international star for Rally SA
View Details
Taylor hits the ground running in scouts rally SA
View Details
Hino 3.9% Finance offer returns
View Details
Hino puts new spark into 2013 Tokyo Motor Show
View Details
Digital Radio Hits Fever Pitch with Hino
View Details
Record Sales for Hino as Toyota Group Surges Ahead
View Details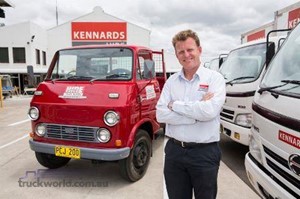 Hinos strong genes lend themselves to museum display
View Details
View More News
View all Related Ads