Hino SmartSafe Driver Assistance Package Now Standard Equipment On All 700 Series Hino Trucks
Hino says that its entire 700 Series truck range available to the Australian market now includes its full SmartSafe safety package as standard equipment. SmartSafe brings important driver assistance technologies to the lineup of 16- to 32-tonne (17.6- to 35.3-U.S. ton) gross vehicle mass (GVM) trucks.
"We have already received excellent feedback on the 4x2, 6x2, and 6x4 700 Series models since their launch in August 2021, and that positive customer response supports the inclusion of Hino SmartSafe as standard equipment on all new orders for the 700 Series FY 8x4 models," says Hino Australia Department Manager of Product Strategy, Daniel Petrovski.
Hino SmartSafe
The Hino SmartSafe package includes a Pre-Collision System (PCS) with Autonomous Emergency Braking (AEB), Pedestrian Detection (PD), a Lane Departure Warning System (LDWS), Vehicle Stability Control (VSC), a reversing camera, and a Driver Monitor system. Driver Monitor uses an A-pillar camera to monitor the operator's eyelids, driving posture, and face orientation. It raises a visual and audible alert if it the driver appears to be getting drowsy or not paying attention to the road.
"Safety is a key consideration for Hino in designing our vehicles and we are proud to offer Hino SmartSafe-equipped solutions across all on-road market segments," says Petrovski.
The Hino 700 Series
The new 700 Series includes 4x2 and 6x2 rigid trucks, which Hino says are often used for distribution tasks, and heavier 6x4 and 8x4 models, which can also handle vocational applications. The 700 Series is available with a new A09C 9-litre engine or an E13C 13-L motor. Its power levels range from 320 to 480 horsepower (235 to 353 kilowatts) and from 1,275 to 2,157 newton-metres (940 to 1,591 pounds-foot) of torque. All 700 Series models comply with Euro 6 emissions standards. They are available with fully automatic or automated manual transmissions and in several axle configurations.
The Hino-Connect telematics suite comes standard and supplies truck performance tracking, 24/7 remote diagnostics, and specialist support. Trucks in the 700 Series have adaptive cruise control, automatic heat and AC, and new controls on the tilting and telescoping steering wheel. There is a 7-inch LCD instrument panel and a 6.5-in. multimedia touchscreen. The latter supports DAB+ digital radio, Bluetooth connectivity, and up to four multi-position cameras.
Find The Right Hino Truck
Look for new and used Hino trucks for sale on TruckWorld.com.au.
Source: Hino
Related Articles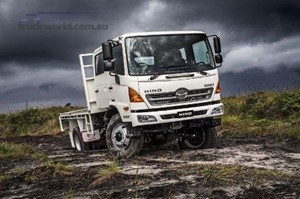 Hino debuts new benchmark in simplicity and safety
View Details
Hino supports fire service with 1000th truck
View Details
Automatic tippers make light work of tough jobs
View Details
Great deasl on offer with the Hinothon end of financial year sale
View Details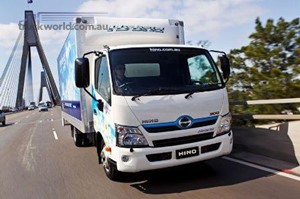 Hino honours Victoria's volunteer fire fighters at Brisbane Truck Show
View Details
Top achievers go back to back at Hino Dealer of the year awards
View Details
Hino backs international star for Rally SA
View Details
View More News
View all Related Ads