Hino To Highlight Its 500 Series Standard Cab Range At This Year's Brisbane Truck Show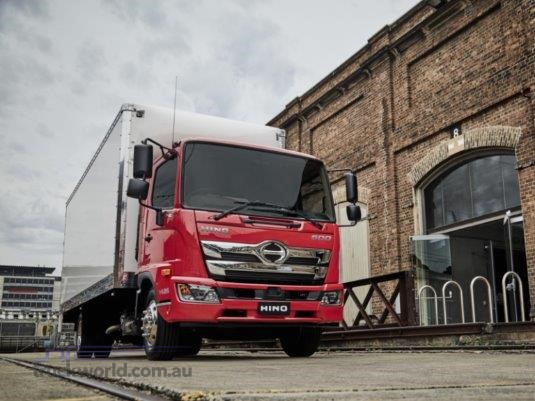 Hino has announced that its new 500 Series Standard Cab lineup of vehicles will be the headliner of its stand at the 2019 Brisbane Truck Show, which runs 16-19 May. The company will highlight the range's numerous standard safety features, boost in engine power, and improved fuel efficiency. "The level of safety on this truck has never been seen before in a Japanese-built medium duty truck in Australia—this is complemented by the superior torque, increased power and reduced fuel consumption of the all-new heavy-duty Hino A05 turbocharged five-litre four-cylinder diesel engine," said Daniel Petrovski, manager of product strategy for Hino Australia.
Extensive Standard Safety Package
Hino's Pre-Collision Safety (PCS) system is at the heart of the 500 Series Standard Cab's standard safety package. PCS can detect vehicles by continuously scanning with the Safety Eye and then send audible and visual alerts to the driver, or even turn on Autonomous Emergency Braking when needed. Hino's adaptive cruise control system also uses the Safety Eye to scan the area in front of the truck, but it can accelerate and brake autonomously to maintain a safe distance from a vehicle ahead.
Another technological solution is the Lane Departure Warning System, which provides visual and audible alerts if the vehicle starts moving into another lane without the driver indicating, and Vehicle Stability Control, which helps keep the vehicle stable when going around a corner or curve in the road. Other safety features include a reverse camera, ADR84/00-compliant Front Underrun Protection (FUP), LED lamps, Pedestrian Detection, an anti-lock braking system, traction control, and much more.
Power & Performance
The A05 diesel engine that powers the Hino 500 Series Standard Cab is available in a wide range of configurations, depending on the specific model. The A05-TE, which produces 240 horsepower and 794 newton-metres of torque, is available on the FC 1124 and FD1124 models. The A05-TD engine provides 240 horsepower and 833 newton-metres of torque and is available on the FE 1424 crew cabs. The A05-TC engine, which offers up to 260 horsepower and 882 newton-metres of torque, is available on the FD 1126 and FE 1426 models.
There are several transmissions to choose from, including the Allison 2500 Series automatic, Hino LX06 and MX06 six-speed manuals, and the MX07 seven-speed manual. FD and FE models are also available with an automated manual transmission. There are also options for a short cab on the FC, a crew cab on the FD and FE, and a rest cab with ADR42 (Australia Design Rule) sleeper compliance also available on FD and FE models. The FC and FD models have a gross vehicle mass (GVM) of 11,000 kilograms and FE models are available with GVMs of either 12,000 or 14,000 kilograms.
Related Articles
Hino 300 series - greater value, more efficient
View Details
HINO HYBRID NAMED TRUCK OF THE SHOW
View Details
Hornsby Council opts for Hino Hybrid
View Details
HINO is Australia's fastest growing TRUCK brand
View Details
Dealer of the year just one year old
View Details
Hino Increases model range across all grades
View Details
HYBRID OFFERS RUNNING COST AND ENVIRONMENTAL BENEFITS
View Details
View More News
View all Related Ads