Till Hino Defying Odds With Ballarat Dealership
First opened on March 2, 2020, Till Hino's brand-new dealership in Ballarat has quickly found its way, even while dealing with the current challenges surrounding COVID-19. "While there was an initial quiet period in early March, we increased our marketing efforts, which has resulted in the strongest-ever sales month and second-largest service month for our Geelong dealership," says Brad Till, dealer principal at Till Hino.
Award-Winning Service
Hino Australia has more than 60 dealerships and service centres throughout the country, and Till Hino was recently awarded the 2020 Hino Dealer Of The Year with the Regional Sales Excellence title. Till Hino purchased its Geelong dealership in 2017, and the new dealership in Ballarat is a logical extension of the Till Hino's sales network. "To service the needs of our Ballarat customers, we launched an on-site service van there two years ago—opening a sales branch is a natural progression from this," Till says.
A Part Of The Community
Like all Hino dealers, Till Hino offers contactless servicing and have increased their already high hygiene standards—while ensuring a smooth socially distanced sales process. In addition to doing their part to keep customers safe, Till Hino's dealerships also support the local community. "We are proud sponsors of the Victorian Rally Championship and the Geelong Supercats basketball team, and we look forward to similar relationships in the Ballarat community," says Hill, who attributes the involvement in the community as key factors in both dealerships' success.
Related Articles
Hino strengthens NSW Fire Fighting ranks
View Details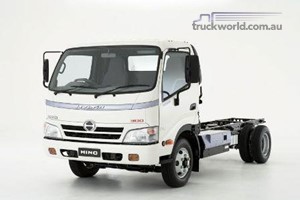 Hino to launch automatic transmission Hybrid
View Details
New HINO TAMWORTH branch gears up for AGQUIP
View Details
Hino launches heavy duty truck with AMT
View Details
Hire company says Hino is a smart tip
View Details
Hino ready for DAKAR 2010
View Details
TNT increases Hybrid Truck Fleet
View Details
View More News
View all Related Ads