Updated Hino 300 Series Hybrid Light-Duty Truck Now Available At Hino Dealerships Nationwide
Hino's newly updated Hino 300 Series Hybrid light-duty truck is now for sale at Hino dealerships nationwide. The truck features an improved engine and transmission, as well as other updates that add up to "an even cleaner, more efficient transport solution." Besides being Australia's only light-duty hybrid electric-diesel truck, Hino says the truck is the first Japanese-made light-duty model to meet Euro 6 exhaust emissions standards. The Hino 300 Series Hybrid is available in four variants.
"The extensive model line-up is a direct reflection of our customers' changing needs – our Australian customers are increasingly demanding more environmentally friendly options, and the Hino 300 Series Hybrid is an excellent solution that reduces fuel consumption and their carbon footprint," says Hino Australia product strategy manager Daniel Petrovski.
Eco-Friendly & Cheaper To Run
Hino Hybrid trucks have been on Australia roads since 2007, and Hino says that more than 600 of them are currently in use in dry van, refrigerated delivery, and city and regional council vocational applications. Immediately enhancing fuel efficiency is one of the truck's major advantages, Petrovski says. "It only requires diesel fuel, so there are no special refueling or operating restrictions—operation is basically the same as a conventional diesel truck, only with reduced operating costs." Testing on the previous Hino 300 Series Hybrid model showed a 21% fuel efficiency improvement compared to its diesel counterpart, Hino says.
The updated models include 4x2 616 Standard, 616 Wide, and 716 Wide cab options (all of which can be operated on a car licence) and the 8.5-tonne 916 Wide model. The trucks use exhaust gas recirculation and a Hino Diesel Particulate Active Reduction Filter system combined with Hino's Selective Catalytic Reduction system. The 300 Series Hybrid's 150-horsepower N04C-WR four-cylinder engine delivers 470 newton metres of torque in combination with the electric motor "from a very low 1,000 rpm." The new models also retain a previous parallel electric diesel design and use of a Toyota Group-sourced nickel metal hydride battery.
More Updates
Other features include a lighter and smaller power control unit (battery, inverter, engine control unit, and DC-DC converter), now 85 kilograms down from 113 kg. Buyers also receive the Hino SmartSafe package that includes a pre-collision system with autonomous emergency braking and a pedestrian detection and lane departure warning system.
Related Articles
Hino backs international star for Rally SA
View Details
Taylor hits the ground running in scouts rally SA
View Details
Hino 3.9% Finance offer returns
View Details
Hino puts new spark into 2013 Tokyo Motor Show
View Details
Digital Radio Hits Fever Pitch with Hino
View Details
Record Sales for Hino as Toyota Group Surges Ahead
View Details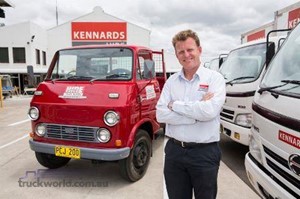 Hinos strong genes lend themselves to museum display
View Details
View More News
View all Related Ads