A Closer Look At The Hyundai Pavise
The Hyundai Pavise is a medium-duty truck with a wide range of chassis, wheelbase, and powertrain options. At the core is a Hyundai diesel engine that produces either 250 or 280 horsepower (186 or 209 kilowatts), with the higher-power version offering up to 932 newton-metres (687 pounds-foot) of torque.
Both engines are paired with a ZF 12-speed automated manual transmission that helps the operator shift gears more smoothly to improve fuel efficiency. There are also options for six- and nine-speed manual transmissions. Aiding the gearbox is an advanced eco roll technology that further reduces fuel consumption by shifting into neutral when going downhill or on a flat surface and three distinct driving modes for prioritising power, fuel efficiency, or a balance of the two.
External Features
The Hyundai Pavise is available in a 4x2 or 6x2 axle configuration with a standard or high-roof cab and a wheelbase ranging from the 3,300-millimetre (130-inch) dump chassis cab all the way up to the 7,000-mm (276-in.) Ultra Long Plus Ext 3. The cab exterior features water-repellent glass in the door, LED headlights, daytime running lights, fog lights, a cascade-style grille, and a front under-run protection device. There are also side lockers on either side of the cab with ample storage space for tools and other cargo. The Pavise comes standard with cab air and rear air suspensions as well.
Hyundai offers multiple exterior color options, including Creamy White, Satin Silver, Strong Gray, Platinum Blue, and Intense Blue. There are also several other exterior options include aluminum and steel fuel tanks and a range of tyres.
Internal Features
The interior of the Hyundai Pavise is designed for maximum driver comfort with a multi-function vented seat (or optional air suspension seat); a heated, adjustable steering wheel with several controls; and 6.7 cubic metres (237 cubic feet) of cabin space. It also has three seats, and the centre seat folds down. It also features an outlet/USB port, an auxiliary heater, storage underneath the bed, an overhead console, and a remote for locking the doors, opening and closing windows, and managing audio volume.
Other standard and optional interior standouts include an overhead control panel, a towel rack, LED lighting throughout and a bedroom reading light, heating controls, a radio, air conditioning, a wheel lock button, and more. There are also several seat trim options, including one- or two-tone leather or cloth.
Driver Assistance & Safety Features
In addition to comfort, Hyundai also prioritised safety with the design of the Pavise. It features dual airbags, a rearview camera, a spray nozzle in the wiper that ensures a clear windscreen, and the aforementioned water-repellant glass on the doors to prevent rain from obstructing the driver's side view. Driver assistance technologies include forward collision avoidance assistance, lane departure warning, and an electronically-controlled brake system. There's also a vehicle dynamic control technology that prevents rollovers and other issues by managing torque and brakes in the event of wheel slippage.
Source: Hyundai
Related Articles
Hyundai Motor Company Begins Delivering XCIENT Hydrogen Fuel Cell-Powered Trucks To Switzerland
View Details
Hyundai Upgrades Its XCIENT Fuel Cell Truck's Design & Performance For 2021
View Details
Fleet Of Hyundai XCIENT Fuel Cell Trucks Surpass 1 Million-Kilometre Benchmark
View Details
Hyundai named a top brand in J.D. Power's 2018 U.S. Initial Quality Study
View Details
Hyundai Introduces The Newest Entry In Its MIGHTY Truck Series
View Details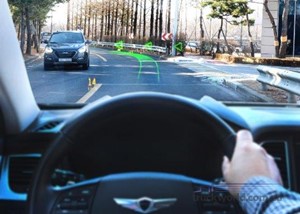 Hyundai Reveals New Augmented Reality Navigation System At CES 2019
View Details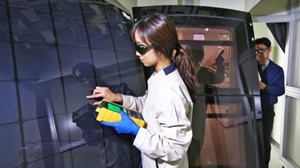 Hyundai Motor Group Announces Solar Charging System For Hybrid, Battery & ICE Vehicles For 2019 Availability
View Details
View More News
View all Related Ads