Hyundai Adds Factory-Built Steel Tray Trucks To Its Mighty Truck EX4/EX6 Range
Hyundai recently introduced factory-built steel tray models to its Mighty Truck lineup, including EX4 and EX6 configurations. Both trucks are powered by 140-horsepower (104-kilowatt) engines that produce up to 392 newton-metres (289 pounds-foot) of torque. They also feature five-speed manual Synchromesh transmissions, Reverse Elliot I-Beam front axles, and full floating type rear axles.
Weight & Wheelbase Options
The EX4 has a gross vehicle mass (GVM) of 4,500 kilograms (9,900 pounds) and a gross combination mass (GCM) of 8,000 kg (17,600 lbs), while the EX6 has a GVM and GCM of 6,500 and 10,000 kg (14,330 and 22,046 lbs), respectively. The EX4 can be driven with a car licence, while the EX6 requires a light rigid licence.
There are two wheelbase options, a 2,850-millimtere (112-inch) short and 3,400-mm (134-in.) medium, and two tray sizes, including one that is 3,420 mm (135 in.) long by 2,160 mm (85 in.) wide and another that is 4,350 mm (171 in.) long by 2,300 mm (91 in.) wide.
Comfortable & Safe
The interior of the new trucks, which is standard across the entire Mighty Truck range, features an adjustable steering wheel with audio controls, an adjustable driver's suspension seat, dual airbags, and a center console with ample storage space. Driver assistance and safety features include four-wheel disc brakes with high power assist brake (HAB) technology, engine drag control, electronic stability control, anti-lock braking, traction control system, electronic brake force distribution, easy hill start, vehicle dynamic control, and daytime running lights.
Source: Hyundai
Related Articles
Hyundai Motor Company Begins Delivering XCIENT Hydrogen Fuel Cell-Powered Trucks To Switzerland
View Details
A Closer Look At The Hyundai Pavise
View Details
Hyundai Upgrades Its XCIENT Fuel Cell Truck's Design & Performance For 2021
View Details
Fleet Of Hyundai XCIENT Fuel Cell Trucks Surpass 1 Million-Kilometre Benchmark
View Details
Hyundai named a top brand in J.D. Power's 2018 U.S. Initial Quality Study
View Details
Hyundai Introduces The Newest Entry In Its MIGHTY Truck Series
View Details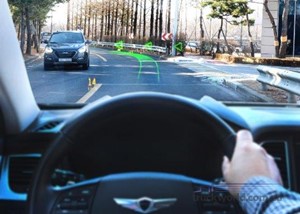 Hyundai Reveals New Augmented Reality Navigation System At CES 2019
View Details
View More News
View all Related Ads