50-Year Glow On Isuzu Truck Of The Year Competition
This post is courtesy of Isuzu Trucks.
The 50th year anniversary of Isuzu selling trucks in Australia is being celebrated company-wide and to reflect this, Isuzu Australia Limited (IAL) are announcing their biggest Truck of the Year competition ever.
Each year, truck owners enter the draw in the hope of taking home the Grand Prize—a coveted $6,000 Visa gift card—and the glory of being crowned Truck of the Year.
The search to find the King of Isuzus was first introduced in the earliest editions of Isuzu's Truckpower magazine in 1996—making it the longest-running competition of its kind in Australia to date.
IAL National Sales Manager, Les Spaltman, said the competition continued to bring like-minded owners together in celebrating their trucks and business.
"When people think of an Isuzu, they think of durable, dependable, consistent trucks that can perform at the highest level over years—a real investment for their business.
"And we see that pride of ownership translating over into our Truck of the Year competition.
"As we enter the 50th year of selling Isuzu trucks here in Australia, it gives me great satisfaction to see our customers stand by the product so strongly… and indulge in a bit of friendly rivalry," said Mr Spaltman.
IAL Marketing and Advertising Manager, Sam Gangemi, also added his comments, chalking up the success of the long-running competition to Isuzu's honest sales culture and the product's famous reliability.
"This is a huge year for Isuzu Australia and in that spirit, we are keen to share the excitement with as many people as we can.
"We expect this landmark anniversary will draw out some of the most exciting trucks we've ever seen, so if you or anyone you know has a truck that might fit the bill, this is your year."
Adding to a slew of ways to win big with Isuzu (including $1,000 Visa gift cards for Series winners and branded merchandise packs for monthly winners), the People's Choice Award was introduced in 2019, giving the broader Isuzu community a chance to vote on social media for their favourite entry.
"We wanted this year to have some flair to celebrate our 50-year anniversary," said Mr Gangemi,
"It's not only about the prize—the honour of being chosen as the Isuzu Truck of the Year has become quite a notable achievement."
Entering the competition is as simple as visiting isuzu.com.au and following the prompts on the Truck of the Year landing page.
The form will ask for a picture of the applicant's truck, as well as a short blurb on what makes it stand out from the crowd. Applicants are free to add pizzazz to their description and anyone speaking passionately about their vehicle will likely get an extra look from the judging panel.
Monthly winners are announced on Isuzu's social media and the Isuzu Content Hub, with each of these winners in with a chance to take out a Series Prize or the Grand Prize as Truck of the Year.
You'll find a big selection of new and used Isuzu trucks for sale on TruckWorld.com.au.
Related Articles
MyIsuzu Co-Pilot Upgrades AV System On Isuzu F, FV, FX & FY Series Trucks
View Details
Isuzu FYJ 300-350 8x4 Increases Efficiency & Diversifies Lifting Options For Craneworx
View Details
Isuzu N-Series & F-Series Trucks Form A New Fleet For Sydney's EWH Food Services
View Details
Kaszbuilt Constructions Finds Success With Versatile Isuzu Tipper
View Details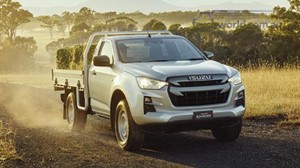 Isuzu Introduces 2022 D-MAX SX Single Cab Chassis 4x2 Series With New Turbo-Diesel Engine
View Details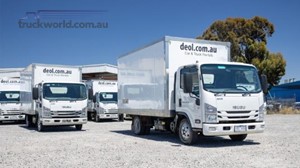 Isuzu NNR 45-150 Trucks Are A Staple For Moving Service-Turned Truck Rental Business
View Details
Landmark Isuzu fire prototype wows AFAC
View Details
View More News
View all Related Ads