Brisbane's ICON Asbestos Removal Relies On Isuzu FRR 107-210 Tipper For Transports
In a recent profile of Brisbane-based ICON Asbestos Removal and its Isuzu FRR 107-210 Tipper truck, Isuzu Trucks notes that health officials were linking lung diseases to asbestos inhalation as early as 1897. The popularity of the material's insulation properties, however, delayed its ban in Australia until 2003, leaving numerous older buildings and infrastructures that still contain the stuff. Enter ICON Asbestos Removal, the company Curtis Lyons founded in 2017 and supported with borrowed or hired trucks until 2018 when he obtained his FFR Tipper from Brisbane Isuzu.
A Breeze To Drive
ICON's business has remained relatively steady during the COVID-19 pandemic, other than jobs involving close physical contact being postponed. ICON performs residential and commercial asbestos-removal jobs, and has worked on projects involving government facilities, factories, schools, and hospitals. After loading asbestos onto the FRR 107-210 Tipper for removal, ICON transports it to licensed dumpsites.
Lyons logs about 53,000 kilometers annually and 1,000 km weekly with the truck, but hasn't experienced any unexpected issues to date. Something he didn't expect, though, was the truck's power—154 kilowatts at 2,400 rpm and 726 newton-metres of torque at 1,600 rpm—for its size. "It still surprises me sometimes on the hills," he says. "It probably shocks a few other people in traffic when they see the size of the truck and the heavy load zooming up a hill without a problem." Lyons says the truck's 10.7-tonne gross vehicle mass and 16-tonne gross combination mass makes heavy-load transports unproblematic.
A Tradepack Future
Lyons says his Isuzu tipper is also a breeze to drive. Even with a 5-tonne load, he says, "the truck is still drivable through Brisbane traffic." It's also compact enough to navigate tighter spaces but can still fit two asbestos sheets on the bed. "This means we can keep the weight down nice and low, and get two or three jobs in each truck load without having to go to the tip," Lyons says. In the near future, Lyons plans to add an Isuzu Tradepack to his fleet for hauling tools and equipment. "If I had an Isuzu truck and another truck side by side to choose from, I'd go with the Isuzu every time," he says.
Related Articles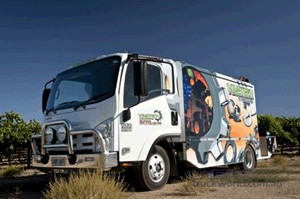 Isuzu helps out on the grapevine
View Details
IAL announces Dealer Sales appointments
View Details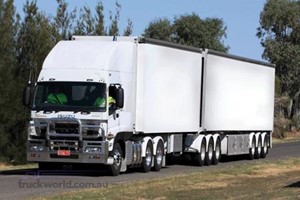 New heavy duty Isuzu Gigas go lighter on fuel
View Details
Isuzu goes to water with diesel engines
View Details
RMC Isuzus lead the way in blasting and exploration
View Details
Heavy haulers fuel Australian infrastructure boom
View Details
Power and comfort all the gas
View Details
View More News
View all Related Ads