Brisbane-Based Produce Supplier Operates A 12-Vehicle, All-Isuzu Fleet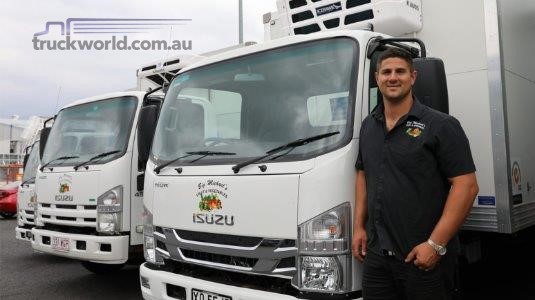 Brisbane-based Big Michael's Fruit and Vegetables relies on a fleet of 12 Isuzu trucks, a mix of light- and medium-duty vehicles, to deliver produce to cafes, restaurants, schools, and other clients across South East Queensland. Peter Marinos and his father "Big" Michael, the company's namesake, founded the business in 2009 with a ute. While expanding Big Michael's customer base, Marinos found that he needed more payload capacity, which is why he purchased his first Isuzu, an FRR 525, in 2010.
Of the dozen Isuzus in its fleet today, there are four NPR 45-190s, two NLR 200s, two NNR 45-150s, two NQR 87-190s, one FRR 525, and one FVL 1400. The NPR-45-190s, as an example, have gross vehicle masses of 4,500 kilograms, offering plenty of payload capacity while also being the lightest vehicles in the bunch. What started as a side job for Marinos has expanded into a 25-employee operation serving more than 1,000 customers.
Consistent, Safe & Reliable
One thing Marinos appreciates about Isuzus is that they look consistent across the range. Whether it be an F Series or N Series truck, he knows "they're going to look like part of the same Big Michael's fleet." He also likes the multimedia systems in the NPRs and NQRs, which include satellite navigation and Bluetooth support, and the large windows that improve visibility.
However, the real standout for Marinos is the reliability of Isuzus, an important consideration when each vehicle covers around 400 kilometres per day. "When you have a reliable and mobile fleet, you have a reliable and mobile business," he says. "And when you have that, you're there first and always on time. That means customers are going to trust you and be loyal to you; and in such a competitive business, that's important."
Automated Manual Transmission
While most of Big Michael's trucks are manual, Marinos recently started adding models with automated manual transmissions (AMTs), and thanks to the smoother gear changes, he plans to only purchase AMT trucks going forward. "The Isuzu trucks, they're smooth," he says. "The gear changes are honestly better than a car. I have three AMT trucks at the moment, and I definitely wouldn't buy manual again. AMT is the way to go."
Related Articles
Isuzu Trucks driving the Queensland Open again in 2016
View Details
Isuzu N Series a breath of fresh air out West
View Details
A truck for every job in Isuzus Ready to Work range
View Details
Tradepack ticking all the right boxes
View Details
Tomorrows Trucking Today An experts guide to the future of road transport
View Details
Isuzu purpose built Dual Control is AWRE inspired
View Details
Isuzu Cubics first line of defense
View Details
View More News
View all Related Ads