Darwin-Based Quest VacWorx & Plumbing Owner Marks 30th Birthday With Isuzu NPR 45-155 Premium Tradepack Purchase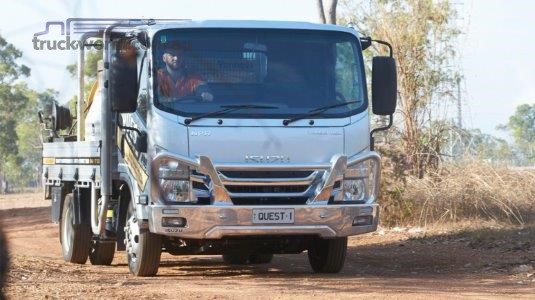 Although some people dread their 30th birthday, Scott Stewart's turned out just fine. Stewart recently celebrated his by acquiring a new Isuzu NPR 45-155 Premium Tradepack truck from Isuzu dealer CJD Isuzu Darwin. The truck is the first purchased for Stewart's new Quest VacWorx & Plumbing (aka Quality Underground Excavation Service Time) business that provides nondestructive hydro excavation services in the Darwin region.
"The Tradepack ended up being exactly how I envisioned it in terms of power, torque, the setup with toolboxes, water tanks, everything," Stewart says. "Having that confidence to find the right piece of equipment was critical in helping me start out. I went in thinking it would be super-hard to buy a truck, just hoping for the best, really. It turned out just perfect, and everything has flowed on from there. It runs well. It's well-built. It's really nice."
Big Capacity
Stewart's NPR 45-155 Premium Tradepack assists him in the potholing, excavation, drain cleaning, and CCTV camera inspections of underground pipework he performs. Purchasing a ute was a consideration, but the Premium Traypack has the power and components Stewart needs to complete demanding tasks and is small enough size to handle jobs in tight-access areas, such as cleaning boats.
"We clean the inside and outside hulls, pump the water out of the boats, and remove any liquid waste with the vacuum," Stewart says. "My little truck is pretty unique in this application. It's small in size, but has big capacity. That was the driving idea behind getting a Tradepack—I wanted something that could access areas where big trucks couldn't get to, that could effectively carry the weight of the vac unit."
Unreal Torque & Thrust Power
Stewart equipped the Premium Traypack with a Vermeer vacuum pump and 1,000-litre (264-gallon) water tank with assistance from A&K Maintenance and Mechanical. The truck itself provides an Isuzu 4HK1-TCN four-cylinder engine rated for 153 horsepower (114 kilowatts) at 2,600 rpm and 419 newton-metres (309 pounds-foot) of torque delivered to a five-speed automatic manual transmission. The truck has an 8,000-kilogram (17,637-pound) gross combination weight (GCM) and a gross vehicle mass (GVM) of 4,500-kg (9,920-lb).
"The torque and thrust power for such a little truck are unreal, and you can still tow on top of carrying a load. I know a lot of guys out there are buying utes, and that's alright, but you really need to consider what you can fit in a truck like the Tradepack," says Stewart. "Honestly, a ute isn't that much cheaper. For a nice interior, built-in extras, and something that's going to be your office, you pay for quality, and you just can't go wrong with Isuzu's Premium Tradepack features."
Source: Isuzu
Related Articles
Isuzu Trucks driving the Queensland Open again in 2016
View Details
Isuzu N Series a breath of fresh air out West
View Details
A truck for every job in Isuzus Ready to Work range
View Details
Tradepack ticking all the right boxes
View Details
Tomorrows Trucking Today An experts guide to the future of road transport
View Details
Isuzu purpose built Dual Control is AWRE inspired
View Details
Isuzu Cubics first line of defense
View Details
View More News
View all Related Ads