Isuzu Debuts MyIsuzu App To Find You The Right Truck
The new MyIsuzu app from Isuzu Trucks is designed to help Australian business owners quickly zero in on the exact models that fit their requirements. To do this, in light of the company's vast array of model variants, the app lets you exclude unwanted results en masse right off the bat.
Download MyIsuzu for your Apple or Android phone or tablet, and you'll be able to immediately filter your truck options via sliding filters for criteria such as GVM (gross vehicle mass), horsepower, payload capacity, and wheelbase. You'll also use checkboxes to specify transmission type, cab/chassis type, and more.
In no time, you'll have a short list of Isuzu trucks that fit your needs. At that point, you can use the Find a Dealer feature to locate and contact a dealer near you. MyIsuzu also links to Isuzu Trucks' online recall checker, service agreements, warranty information, and more.
Isuzu plans to show off the new app at the 2019 Brisbane Truck Show being held 16 to 19 May at the Brisbane Convention & Exhibition Centre.
Fleet Management Ahead
The manufacturer says that the MyIsuzu app will get even better in the second half of the calendar year. Isuzu plans to roll out a new vehicle management feature for both desktop and mobile devices.
The upcoming tool will help you manage multiple Isuzu trucks, from a few to a fleet, with model, VIN, specification sheets, user manuals, and warranty coverage info, as well as maintenance schedules and more. Isuzu says that fleet management will help owners "minimise downtime and maximise efficiencies."
Isuzu Trucks On TruckWorld
Currently, there are more than 1,300 new and used Isuzu trucks for sale on TruckWorld.com.au. They include table / tray tops, tippers, pantechs, wreckers, tautliner / curtainsiders, service vehicles, crane trucks, and many more.
Related Articles
NSW truckstops
View Details
Truck Stops and Rest Stops around Australia
View Details
JK Shifts Up A Gear, Isuzu
View Details
Trouble-free Isuzu's fit towing task
View Details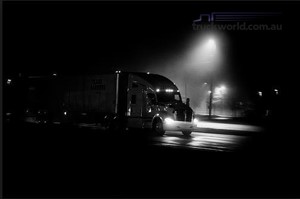 Truck Tip: Hazards and Visibility at night
View Details
ISUZU Ready For Work With BUILT-UP Trucks
View Details
ISUZU Celebrates 18th Consecutive Year of Market Leadership
View Details
View More News
View all Related Ads