Isuzu F Series Trucks Sales Program Promises Substantial Savings For Buyers
Cost savings and peace of mind are the overriding themes of a discount sales program that leading truck brand Isuzu Trucks is running now through 30 September for select F Series medium-duty trucks. The sales program covers 11 cab-chassis variants from 10- to 12-tonne GVM (gross vehicle mass) from Isuzu's FRR, FRD, and FSR lineups. All the eligible models include a four-cylinder, turbocharged 4HK1 engine, and Isuzu says customers are in store for "substantial" savings with any featured model, although the heaviest savings are attached to the FRR 107-210 AMT.
Qualified To Serve You
In addition to the sales-qualifying models mentioned, Isuzu also manufactures FSD, FSS, FTR, FTS, FVD, FVL, FVM, FVR, FVY, and FVZ truck models. This sales program comes during what Isuzu calls "times of uncertainty" when "businesses can't afford to gamble with their livelihoods" and "trucks need to perform reliably, safely, and on repeat."
Isuzu points to Truck Industry Council data that demonstrates its leadership in the Australian truck market for more than 30 years, its "unsurpassed dominance" in the medium-duty sector, and the fact that one in four trucks on Australian roads is an Isuzu as reasons for investing capital in a F Series truck. Applicable purchases during the sales program will come with Isuzu's Extended Care coverage, which includes five years of roadside assistance and factory warranty coverage, as well as your truck's first scheduled servicing at 20,000 kilometres free of charge.
Power For The Job
The 5.2-litre, four-cylinder, two-stage turbocharged 4HK1 engine featured in the sales-eligible F Series models is available in 206- and 237.4-horsepower ratings. Isuzu introduced the engine to the Australian market in 2016, and says it is one of the cleanest and most efficient Japanese diesel powerplants in the medium-duty class.
Besides Australian Design Rules regulations, the 4HK1 exceeds Euro 5 regulations and complies with Japan's Post New Long-Term emissions standard. The 206-HP variant produces 726 newton metres torque, compared to 765 N-m for the 237.4-HP version. Isuzu combines the 4HK1 with either a six-speed manual transmission or its exclusive Torque Converter Automated Manual Transmission.
Related Articles
NSW truckstops
View Details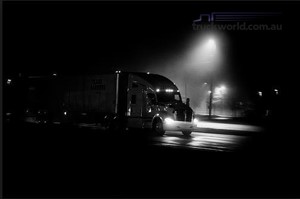 Truck Tip: Hazards and Visibility at night
View Details
ISUZU Ready For Work With BUILT-UP Trucks
View Details
ISUZU Celebrates 18th Consecutive Year of Market Leadership
View Details
RACQ delves into stormy waters
View Details
Isuzu backs burns unit
View Details
Truck Stops and Rest Stops around Australia
View Details
View More News
View all Related Ads