Isuzu Introduces 2022 D-MAX SX Single Cab Chassis 4x2 Series With New Turbo-Diesel Engine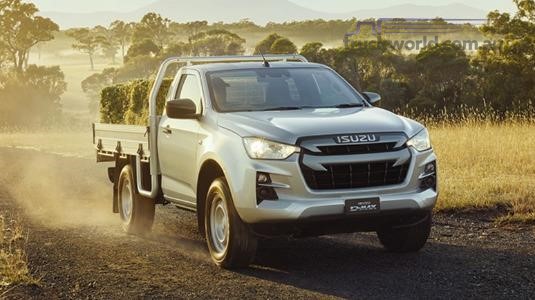 Isuzu's 2022 D-MAX SX Single Cab Chassis will be available with two turbo-diesel engine options, providing commercial operators and tradesman with the choice between the fuel-efficient RZ4E-TC 1.9-litre engine and the 4JJ3-TCX 3.0-L engine, with more power and torque. The RZ4E-TC 1.9-L engine is a new option for 2022 and comes with many of the high-end features in Isuzu's 4J series. The new engine puts out 110 kilowatts (148 horsepower) and 350 newton-metres (259 pounds-foot) of torque, and Isuzu says nearly 86% of the torque output is available from 1,550 to 3,700 rpm.
"Our updated SX Single Cab Chassis ushers in a new turbo-diesel engine option that is engineered to maximise efficiency and mileage, all bundled up with a comprehensive suite of safety and driver assistance technologies as standard across the entire range," says Isuzu UTE Australia Managing Director, Hiroyasu Sato.
Full D-MAX Safety
The SX Single Cab Chassis meets the 5-star ANCAP safety rating and operators benefit from the Intelligent Driver Assistance System (IDAS) technology found in Isuzu's D-MAX lineup. Just a few key features include autonomous emergency braking, traffic sign recognition, blind-spot monitoring, rear cross traffic alerts, and lane keep assist. Drivers can toggle lane keep assist on and off, along with other Lane Support Systems (LSS) capabilities like lane departure prevention and emergency lane keeping, by using the LSS Switch on the steering wheel.
Payload Capacity
Isuzu designed the 2022 SX Single Cab Chassis to maximise payload capacity by taking advantage of the ladder-frame chassis found throughout the D-MAX range. The chassis is constructed using high-tensile steel and can accommodate trays up to 2.55 x 1.8 metres (8.4 x 5.9 feet; length by width). The new 1.9-L RZ4E-TC powered truck is available in payloads of 1,405 kilograms (3,907 pounds) with a manual transmission and 1,380 kg (3,042 lbs) with the automatic. With the 3.0-L 4JJ3-TCX engine, payload capacity drops to 1,300 kg (2,866 lbs) with the manual transmission and 1,305 kg (2877 lbs) on the automatic due to the higher kerb weight. Both variants feature the same 3,000-kg (6,614-lb) gross vehicle mass as the rest of the D-MAX 4x2 range.
Source: Isuzu
Related Articles
Landmark Isuzu fire prototype wows AFAC
View Details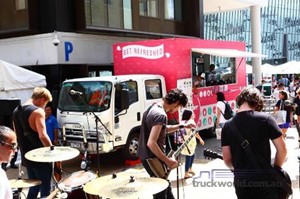 Feeding the hoards with Isuzu N Series
View Details
Isuzu Trucks driving the Queensland Open again in 2016
View Details
Isuzu F Series washes away competition in Adelaide Hills
View Details
Ten year plan Telematics and the future of transport
View Details
IAL announces new Managing Director and CEO
View Details
Isuzu engines set to impress at AgQuip field days
View Details
View More News
View all Related Ads