Isuzu Launches Limited-Edition NLS 45-150 AWD Traypack Truck, Available Now Through September 30
Isuzu Trucks recently added a new vehicle configuration to its Ready-to-Work off-road lineup, the NLS 45-150 All-Wheel Drive Traypack special-edition truck. Available now through September 30 with a drive-away price of $52,490, this limited-run model has a gross vehicle weight of 4,500 kilograms, a gross combination weight of 8,000 kg, and maximum towing capacity of 4,000 kg. Plus, it's legally drivable with a passenger car licence. Isuzu says the NLS features a "robust factory-backed body" and is well-suited for "team-based council, civil, or construction work," among other applications. The launch coincided with a limited Ready-to-Work sales event that also runs through the end of the month.
Powerful, Safe & Comfortable
The Isuzu NLS 45-150 AWD Traypack features a 4JJ1-TCS engine that produces 110 kilowatts (148 horsepower) and 375 newton-metres of torque, and a five-speed synchromesh manual transmission. The driver can switch between two- and all-wheel drive depending on the situation. The truck also features a heavy-duty aluminium tray body with removable drop sides and tailgate as well as load restraint anchor points and a rear window protector.
The NLS comes standard with several safety features, including anti-lock brakes, traction control, hill start aid, airbags on the driver and passenger sides, and a reversing camera. For a smoother, more enjoyable operation, it also features an adjustable driver's seat, electric windows and mirrors, a multimedia system, air conditioning, and an Independent Front Suspension. Isuzu says the latter brings "a superior level of driver comfort and a predictable ride both on and off sealed sections."
"A Highly Capable, Go-Anywhere Work Vehicle"
"Those in the market for a highly capable, go-anywhere work vehicle simply must take a closer look at this limited-edition model," says Les Spaltman, national sales manager for Isuzu Trucks. "From its all-wheel-drive capability to its factory-backed body, the NLS AWD Traypack has just about every base covered, regardless of the task at hand. We're running this sales program for a set time and there's limited units available, so we're urging those in the market for a tough, rugged, genuine work truck to get along to your local dealership and take a drive."
Related Articles
ISUZU SAYS 'THANK YOU'
View Details
The functional friend, Isuzu
View Details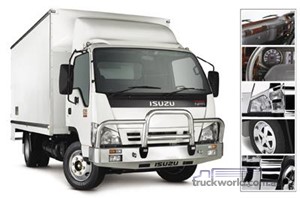 Accessories offer Isuzus additional personality
View Details
Forking good idea goes nation-wide
View Details
Sargent commands comprehensive service offerings
View Details
NSW truckstops
View Details
Tried and True Freightpack Returns
View Details
View More News
View all Related Ads