Isuzu Launches New Lineup Of Dual Control Waste Disposal Trucks Ranging From 12,000 To 24,000 Kilograms GVM
Isuzu Trucks recently launched its new Dual Control lineup of waste disposal trucks. The range consists of four models, the FSR, FVD, FVY, and FVZ, all of which feature lower tare rates and are designed to tackle "the evergreen challenge of continuing to refine our waste process and production processes," Isuzu says. Each of the trucks also features an instrument panel and steering wheel on both sides of the cab, along with dual adjustable air-suspended seats, and several safety features, including yellow steps and handles, an RHS driver airbag, an antilock braking system (ABS), and more.
Isuzu FSR 140/120-260 Dual Control
The already released Isuzu FSR 140/120-260 Dual Control model is the lightest of the range, with GVM (gross vehicle mass) options of 12,000 or 14,000 kilograms (26,456 or 30,865 pounds). It features an Isuzu 6HK1-TCC six-cylinder engine that produces 191 kilowatts (256 horsepower) and 761 newton metres (561 pounds-foot) of torque, an Allison LCT2500 automatic transmission, multi-leaf steel spring rear suspension, and dual-circuit air over hydraulic front and rear drum brakes with ABS.
Isuzu FVD, FVY & FVZ Dual Control
The Isuzu FVD 165-300, FVY 240-300, and FVZ 240-300 models all share the same Isuzu 6HK1-TCS six-cylinder engine, which produces 221 kilowatts (296 horsepower) and 981 newton metres (723.5 pounds-foot) of torque. The FVD stands apart with an Allison 3000 Series automatic transmission, a GVM of 16,500 kilograms (36,376 pounds), and a GCM (gross combination mass) of 32,000 kilograms (70,548 pounds). The FVY and FVZ feature Allison 3500 Series automatic transmissions. They also have GVMs of 24,000 kilograms (52,911 pounds) and GCMs of 36,000 kilograms (79,366 pounds). All three trucks also feature Meritor Q-Plus dual circuit full-air S-cam front and rear drum brakes with ABS.
Built For Australia
"What we've worked really hard to develop with these new models is a compelling total cost of ownership argument for Isuzu," says Les Spaltman, national sales manager for Isuzu Australia Limited. "Lower tare weights bring improved productivity and payload. And when you add the commonality of parts we've developed with our F Series range, the equation really adds up in favour of our customers. These trucks have been designed specifically for Australian conditions and industry need. We have incorporated proven efficiencies across our engines, driveline and chassis componentry, wheelbase options and in-cab appointments, making this dual-control line-up extremely competitive on a number of fronts."
Related Articles
Tried and True Freightpack Returns
View Details
The functional friend, Isuzu
View Details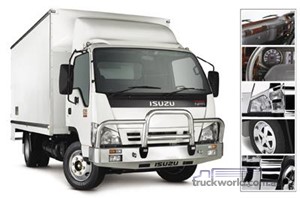 Accessories offer Isuzus additional personality
View Details
Isuzu backs burns unit
View Details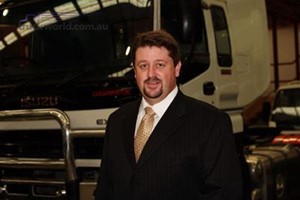 Isuzu announces sales department restructure
View Details
Isuzu's tipper crew expands
View Details
NSW truckstops
View Details
View More News
View all Related Ads