Isuzu Looks Back On Brisbane Truck Show, Announces New Sales Program & Truck Giveaway
Isuzu Trucks is celebrating a successful Brisbane Truck Show, which ran from 16 to 19 May, with highlights from the show as well as some new announcements. Isuzu had several of its Ready-to-Work vehicles on display, including NLS and NPS Servicepack X models, an FSR 140-260 tipper truck, and an FRR 110-240 AMT model with a curtain-side body.
The company also highlighted its Electric Vehicle (EV) concept truck designed for the waste management industry and launched the MyIsuzu mobile app at the show. One of Isuzu's EV concepts is an NQR model that features a 132-kilowatt-hour NMC lithium-ion battery pack and produces continuous power and torque of 100 kilowatts and 800 newton metres and maximum power and torque of 130 kilowatts and 1,500 newton metres.
New Sales Program
Isuzu has announced a new sales program for its lineup of tipper trucks, "including the ever-popular Tri-Tippers, from the F to N Series." These tippers features 2-cubic-meter ShinMaywa steel tipper bodies with two-way auto release tailgates and shovel racks, and they raise in 20 seconds to make short work of any task. Isuzu also offers an NLR 45-150 AMT Tipper truck that's well-suited "for those with only a car license handy," the company says. This limited-time sale ends on 30 June.
Truck Giveaway
Isuzu also launched the Ready-to-Work Takeaway Giveaway to celebrate the company's "30th consecutive year of market leadership." When the event ends on 31 July, one person will come away with an N Series Ready-to-Work truck. "A brand-new Isuzu truck from the Ready-to-Work range has the ability to transform an Australian trade business," says John Walker, head of marketing and customer experience for Isuzu Australia Limited. "Having an increased load capacity that can be driven on a passenger car license makes it a real winner over traditional commercial utes and vans."
Related Articles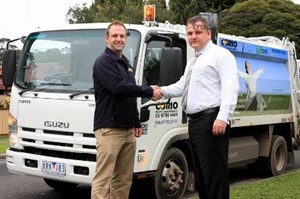 CNG truck on bin duty for Corio Waste Managemet
View Details
Global transport giant TNT goes Gas with Isuzu
View Details
Isuzu trucks offers extra traction with expanded AWD range
View Details
Plumbing isn't brain surgery - it's drain surgery
View Details
Making power with new Isuzu generators
View Details
Pumping industrial waste with the power of Isuzu
View Details
Brake pads added to Isuzu BVP range
View Details
View More News
View all Related Ads