Isuzu Trucks Offers Limited-Edition Freightpack Urban For Growing Deliveries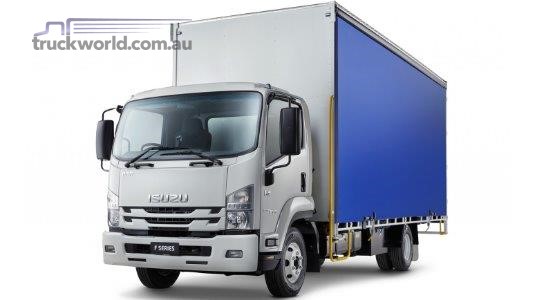 Fueled by growth in online shopping, freight volumes in Australia are expected to increase by 8.4 percent in the next two years, says Isuzu's Future of Trucking report. To meet the rising demand in freight and distribution, Isuzu released its Freightpack range of ready-to-work trucks. The company recently announced the addition of a limited-release, 10-pallet model, the Ready-to-Work Freightpack Urban, available from 1 January to 31 March 2021.
About The Freightpack Urban
The Freightpack Urban is built on the FRR 107-210 long-wheelbase chassis with 10,700 kg Gross Vehicle Mass (GVM). The truck has the Isuzu 4HK1 diesel engine, a six-speed Automated Manual Transmission, and a power rating of 210PS. The 10-pallet Urban has easy-glide curtains, as well as quick-release catches and docking rubbers. Pallet-width, load-restraining and interlocking side gates remove easily in and out of position to give forklifts easy interior access. Load restraint ratchets for each pallet are placed on the passenger side rope rail to further secure loads. Other features include Isuzu Electronic Stability Control, Anti-lock Braking System and Hill Start Aid, a reversing camera, a fully adjustable air suspension driver's seat, and truck-specific satellite navigation.
Last-Mile Deliveries Driving Demand
"In consultation with industry and with the popularity of our medium-duty Freightpack range pointing the way, we knew there was demand at the lighter end of the freight and logistics market," says Isuzu Australia Limited National Sales Manager Les Spaltman. "In the current last-mile delivery boom, operators need a truck that doesn't skip on payload capacity or useful features—at an affordable price. We're delighted to introduce the Freightpack Urban campaign in this space, giving businesses a jump ahead on the competition this year."
Source: Isuzu
Related Articles
Isuzu Trucks driving the Queensland Open again in 2016
View Details
Isuzu N Series a breath of fresh air out West
View Details
A truck for every job in Isuzus Ready to Work range
View Details
Tradepack ticking all the right boxes
View Details
Tomorrows Trucking Today An experts guide to the future of road transport
View Details
Isuzu purpose built Dual Control is AWRE inspired
View Details
Isuzu Cubics first line of defense
View Details
View More News
View all Related Ads